For the past two years, Harrison Higgins' life has been a whirlwind of appointments and visits to eye doctors.
The cheeky four-year-old from Sippy Downs was referred to the Ophthalmology Clinic at Caloundra Hospital when his eyes started to turn inwards just before his third birthday.
"We noticed that his eyes started to turn in gradually and then it just got worse over time so we thought we better get this checked out," dad Daniel Higgins said.
After a range of tests and photographs, specialists found that Harrison appeared to have a scar behind his right eye.
Harrison's mum Danielle said at the time, doctors thought the scar could have been cancerous which prompted urgent calls to specialists in Brisbane.
"We went from his eyes turning in a little to the possibility of cancer so it was a very stressful 48 hours until it was confirmed that it wasn't cancerous," Daniel said.
Help keep independent and fair Sunshine Coast news coming by subscribing to our free daily news feed. All it requires is your name and email. See SUBSCRIBE at the top of this article 
"In Brisbane they took more pictures and said that the scar could have been there from birth and they potentially may never have found it if his eyes weren't turning in. We were obviously pretty relieved when we were told it wasn't cancer and that they just have to monitor it."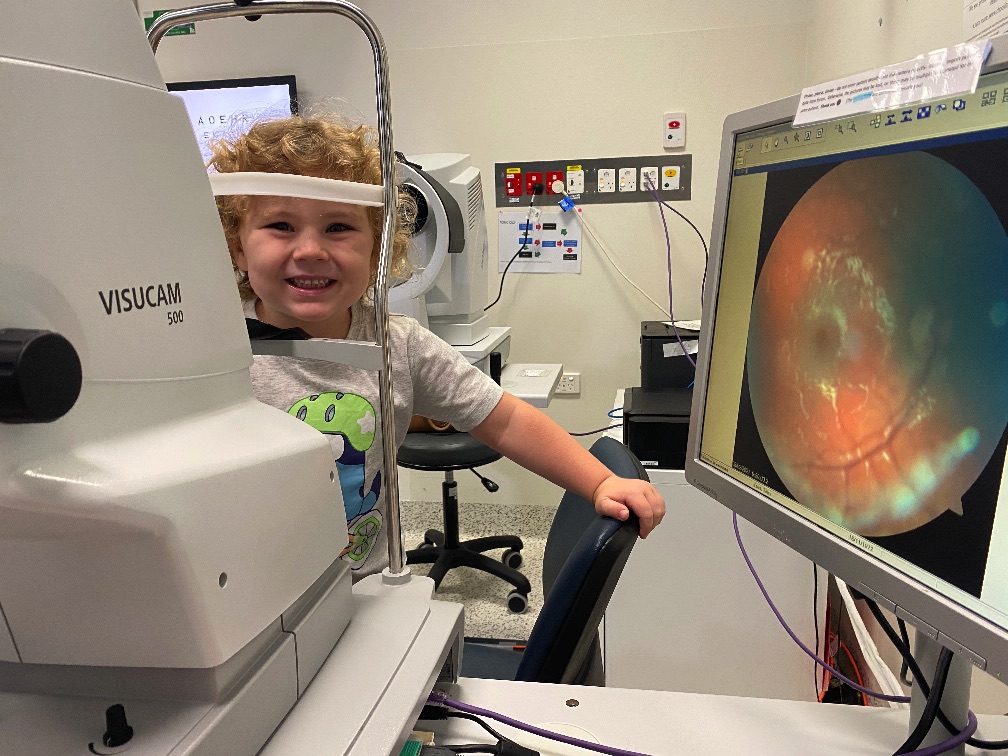 Harrison then began his journey to correct the alignment of his eyes.
"We just started off with the glasses but it ended up being surgical," Danielle said.
"He had to have an MRI first and that was pretty traumatic. It was Harrison's first time under anaesthetic and he didn't come out of it the best."
The anticipated two-hour surgery at the Sunshine Coast University Hospital last year ended up being five hours but the operation on both of Harrison's eyes was deemed a success.
"He took a while to come out of the anaesthetic and his blood pressure was up. We couldn't get him to eat or drink, and it was a very long six weeks of recovery when Harrison wasn't able to go outside into the light," Danielle said.
"We had to make sure nothing could get in his eyes and then one of his stitches started to move around his eye which was a bit scary but we rang the clinic and thankfully the stitch did dissolve over the next few days."
Like stories that inform, connect and celebrate the Sunshine Coast? So do we. Join an independent local news revolution by subscribing to our free daily news feed: Go to SUBSCRIBE at top of this article to register.
Harrison now wears glasses to help his vision and uses a patch to strengthen the muscles of his eye.
"We just take things day by day," Daniel said.
"We just wanted to get it right for him before he starts school and it's just a work in progress I guess. Thankfully Harrison can do everything now – he is kicking the football and playing with his sisters. And we were lucky to get the surgery done before COVID hit."
Several pieces of equipment that ophthalmologists have used to treat Harrison at the Caloundra Clinic have been purchased by Wishlist, amounting to more than $430,000.
However, the service is growing rapidly with at least 40 patients treated at the Wednesday clinic each week, and half of those being paediatric patients.
The Neonatal service is also growing as the Sunshine Coast University Hospital is now able to care for younger premature babies and all infants undergo eye checks before being discharged.
"It's really not until it happens to you or your family, that you realise how important your vision is," Danielle said.
"Procedures change over the years and we were very thankful to get in fairly quickly. It was an anxious experience but thankfully the equipment is here on the Coast for kids like Harrison. I can't imagine what it would be like to have to go to and from Brisbane for treatment."
Wishlist Giving Day on March 25 will be raising funds for equipment to help young patients like Harrison.
Last year the Sunshine Coast rallied behind the local charity by 'giving a little to help a lot' and raised more than $240,000 which was spent on a range of medical equipment including a Colposcope for Nambour Hospital, the Paediatric Critical Care Unit Family Room, diabetes equipment and more.
Every donation given on Thursday, March 25, will be doubled thanks to Wishlist's generous business 'matchers'.
Visit wishlist.org.au for more information or to create a team today.