Author and conservationist Dr Sarah Pye had an unconventional childhood, one she believes helped foster her love for the environment and desire to work towards its protection.
Originally from England, her parents took her out of school at the age of 13 and moved her and her brother onto a 32-foot yacht.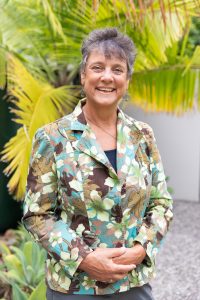 They sailed from England to the Mediterranean, across the Atlantic to the Caribbean and on to the Americas and Dr Pye grew up holding night watches, trimming sails and hunkering down in raging storms.
To say it was adventurous is an understatement.
"We lived on the boat for eight years," says Dr Pye. "I went to university in America from the boat. My parents were quite courageous to take me and my brother out of school. They were both trained teachers and had had enough of the English school system.
"The experience on the boat made me self-disciplined and self-reliant. It also gave me a wider view of the world and I got to learn from experiences rather than books.
"That was a big plus. It also connected me to the environment, which has definitely influenced what I've done."
She studied hospitality management in the US and in 1994, moved to Australia and settled in the Whitsundays.
There she opening an adventure tourism business with her then husband, Ocean Rafting, which won a Queensland Tourism Award for Best Adventure Tour.
Living her life from one adventure to another, she moved to the Sunshine Coast in 2002 and completed a Master of Communications degree, publishing a book called Kids Welcome to Queensland in 2009.
For the resulting travel business, she was named Sunshine Coast Small Business Woman of the Year in 2010.
But it was in 2012 that she launched into the greatest adventure so far, one that has shaped the past 10 years of her life.
"I went to Borneo to see orangutans and met Dr Wong Siew Te at his Bornean Sun Bear Conservation Centre," she says.
"I was moved by the fascinating, quirky bears and the dedication of Dr Wong, who was working to save them from extinction.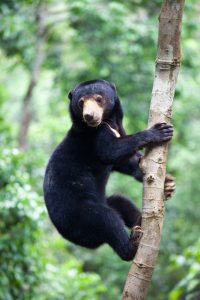 "The moment I saw sun bears climbing 40 metres in the trees and swinging on vines like orangutans, I was hooked. With Dr Wong's charisma and commitment, I just felt I needed to help."
In the rainforests of Asia, sun bears are poached for body parts, which are thought to have medicinal properties.
Orphaned cubs, with their small size and endearing features, are kept illegally as pets. Malaysian ecologist Dr Wong Siew Te has dedicated his life to saving the world's smallest bear from extinction.
"My attraction was a combination of the animals and the man himself, who needed help to save a species. I asked him what I could do to help and he just said, 'do what you do best.
"It's such a powerful thing to say. He wasn't prescriptive, he left it up to me. It led me down the idea of introducing him to the University of the Sunshine Coast."
Like stories about Sunshine Coast people doing great things? Help us deliver more by registering for our free daily news feed. All it requires is your name and email. See SUBSCRIBE at the top of this article 
In 2014, she returned to the Sun Bear Conservation Centre with four public relations students from USC to design a sun bear adoption program, which was subsequently launched at Australia Zoo.
USC awarded Dr Wong an Honorary Doctorate for his conservation work in 2016.
Dr Pye's book Saving Sun Bears was launched on World Environment Day last year and is a biography of Dr Wong's life and work.
For her book and an accompanying thesis she was awarded a Doctorate in Creative Arts by the University of the Sunshine Coast last year.
With her publishing company having been hit hard by COVID, she has taken back the rights to her book and is about to relaunch it.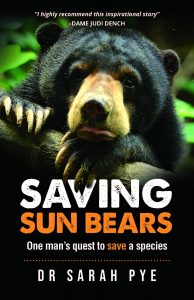 "We had over 3000 people at the global online launch last year," she says. "It's a global story that attracts a lot of people throughout the world who have a passion for conservation.
"Sun bears are an animal that share the forest with a million other species, many who are endangered. You save the rainforest, you save more than just sun bears."
With a seemingly tireless passion for conservation education, Dr Pye is launching her second book based on Dr Wong's work on March 2 at Immanuel Lutheran's Voices on the Coast literary festival.
"It's called Wildlife Wong and the Sun Bear and it targets eight to 12-year-olds," she says.
"They're moving Voices on the Coast online this year, which is good for me because I have a global audience. My book is part of a new series about different animals in the rainforest and it's designed to connect children back to the earth. It's a lofty goal.
"The books will have three sections. The first section is a narrative about Dr Wong, the second will have information about an animal and the third section will have experiments for children to pretend they're scientists and do the experiments Dr Wong does. It connects on a narrative level, a scientific level and an informational level.
"It's nice to sell books, but that's not my primary aim. The most important thing is to build awareness. The more books we sell, the more we can build awareness about the rainforests and the need to save them."
Dr Pye has organised a screening of the film Bear Trek at Maleny RSL on March 6. Bookings are essential, and can be made at Rosetta Books Maleny or online at https://www.trybooking.com/BOKDG
For more information about her books, visit sarahrpye.com.