A USC midwifery expert who has studied the birth trauma experiences of hundreds of women is set to feature in a new documentary.
Dr Rachel Reed from USC's School of Nursing and Midwifery was interviewed for Birth Time: The Documentary, which is due to screen across Australia from February 11 to  March 9, including at Nambour's Majestic Cinemas on Sunday February 28 at 6.30pm.
Dr Reed said one in three women globally were reporting traumatic experiences of childbirth, including in Australia, despite it having one of the world's most advanced medical systems.
"In Australia we have a heavily medicalised maternity system that leads to a lot of interventions for women, many of whom do not particularly want or need them," said the Senior Lecturer in Midwifery.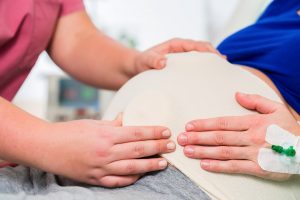 "There have been reports of coercion and manipulation. Often, it's not done intentionally – rather more as an attempt to mitigate medical risk. But what is not counted is the emotional risks facing women if they experience disrespectful care.
"Birth trauma is not about how a woman births. It's about how she was treated during birth. There's more to trauma than a physically traumatic experience."
In a 2017 study of more than 700 women including Australian women, published in BMC Pregnancy and Childbirth, Dr Reed and other researchers recommended a greater prioritisation of the emotional needs of women.
"Legal and professional standards reinforce that the mother is the decision maker, and it is the care provider's job to offer evidence-based care and respectfully support the woman in the decisions she makes," she said.
Dr Reed said Queensland recently implemented guidelines for care providers partnering with women who declined recommended maternity care, with many care providers and clinicians supporting the changes.
"A woman's interpretation of care might often be different to that of the care provider," she said.
"For example, if she feels coerced into having a caesarean, it may be that the reasons for the recommendation were not explained or she wasn't aware of her right to decline. So it comes back to how we engage with women."
Premiere screenings of Birth Time: the documentary will be followed by panel discussions with the Birth Time team. A full list of screening dates is available at Filmink.