When a bomb killed Maroochydore toddler Merilyn Gartner in 1974, it was a crime that introduced the Sunshine Coast to the reality that "it could happen here".
At about 1pm on Wednesday, August 7, 1974, Heinz Gartner noticed an open window at his unoccupied house at 60 Sixth Ave, Maroochydore and went to check. His daughters Merilyn, 3, and Lisa, 2, were with him.
While their father was looking around, the girls ran off to explore. Little Merilyn opened a cupboard, detonating a nail bomb that killed her instantly. Her sister was seriously injured and the "high order" blast shattered windows and floorboards.
The cupboard had been booby-trapped and there was never any doubt that it had been meant for Detective Sergeant Kev Dorries.
Dorries, 42, was head of the CIB and after five years in Nambour, was far from popular.
"We have young people on heroin, cannabis and LSD. The climate favours the cultivation of cannabis and the holiday-like conditions made the area a favourite spot for drug-users," Dorries said in an interview.
"I am not as tough a policeman as I have been made out to be but one who operates without fear."
Nevertheless, there were always stories in those pre-Fitzgerald days about his methods in his push to clean up drug offenders on the Coast.
Two days before the blast, the Nambour Criminal Investigation Branch had received an anonymous call that heroin was hidden at the property and to "tell Dorries to look in the cupboard".
It was thought the bomb had been planted on the Sunday night but when Dorries went to investigate on the Monday, the house was locked and he left to make further inquiries.
The bomb was home-made using an empty gallon paint tin, sticks of gelignite and a detonator attached to a 9-volt battery, together with 2-inch fibro roofing screws and nails.
It was reported, that it was based on the Claymore anti-personnel mine, a weapon seen by thousands of Australian soldiers in Vietnam.
This, and the fact that many young Australians had been introduced to drugs while serving in Vietnam, was one of a dozen theories detectives considered.
A reward of $20,000 was offered on August 15, for information leading to the arrest of the person responsible and there would be a free pardon for any accomplice.
A team of detectives arrived from the Brisbane CIB and the investigation was swift and tough.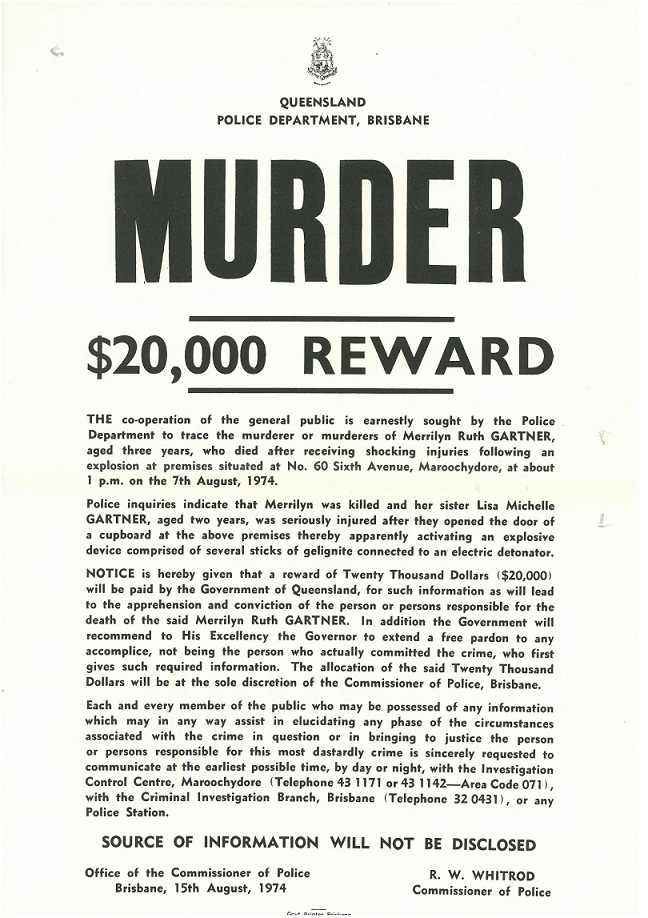 He was convinced they were looking for a drug pusher or user who had found the pressure of police too much. Scores of young people in Maroochydore were questioned.
Soon, Peter Vivian Wardrop, 27, a salesman from Oxley in Brisbane, confirmed as part of the local drug scene, and Gary Thomas Taylor, 24, of Zillmere, both known to police, were arrested.
Taylor was found hanged in his cell on December 13, while Wardrop pleaded not guilty and went to trial on April 28, 1975.
The court was told that Wardrop was obsessed by his hatred for Dorries who was costing him thousands in cannabis sales.
Dorries told the court that in the previous May, he had found a farm near Maroochydore with 500 cannabis plants, a crop worth about $100,000 and had apprehended Wardrop.
After 39 days, and statements from 76 Crown witnesses, the jury found Wardrop guilty and he was sentenced to life imprisonment with hard labour. He appealed  a year later but was again convicted.
Dorries, meanwhile, had been transferred to Brisbane.
Wardrop was back in the news a decade later in January 1984, while incarcerated at Townsville's Stuart Jail.
He had sent an anonymous letter to Premier Sir Joh Bjelke-Petersen saying that wild pigs would be infected with foot and mouth disease, spreading to cattle and sheep, unless prison reforms were implemented within 12 weeks.
The threat was taken seriously and rewards offered, until the extortionist was found to be none other than Wardrop.
In 1989, State Cabinet decided to release Wardrop from jail and deported him to his native New Zealand, under threat of imprisonment if he returned.
The last heard from Wardrop was in May 2004, when, at 57, he was jailed for three years for growing cannabis at Hawke's Bay in New Zealand, where he had been living since his release from Queensland.
This flashback is brought to you by veteran Sunshine Coast journalist and history writer Dot Whittington, also the editor of Your Time Magazine.