A large easterly swell generated by two cyclone systems well offshore is due to hit our coastline today and stick with us throughout the weekend.
The Bureau of Meteorology has issued a hazardous surf warning and if the forecasted 2-3m swell eventuates there is a high likelihood that beaches will be closed due to dangerous conditions.
It might be disappointing news for swimmers given that the forecast is also for warm, sunny days and perfect beach weather.
Surfers are advised to stick to their capabilities as the waves increase in size and power.
The more protected points at Pt Cartwright, Alexandra Headland and Noosa National Park are expected to be very popular.
If you get to the beach and only see a red flag flying that means the beach is closed so please stay out of the water.
Our teams of lifesavers and lifeguards have done a fantastic job over summer so far and I wanted to highlight, in particular, one outstanding team effort.
On January 5, the Noosa West and Noosa Main Beach lifeguards responded to an incident involving a man in a semi-conscious state at the water's edge.
The man's distress was identified by recent recruit Jack Frey (a trainee paramedic) patrolling with lifeguard Tori Farmer.
As it was identified that the patient was now unconscious and not breathing, additional support was sent from Noosa in the form of lifeguards Renee Gregory and Billy Kneale (who also happens to be a paramedic).
On scene, Billy assumed control of the resus with Tori and Jack performing CPR with airways and defib. They were assisted by lifeguard James Cervi, who had been conducting roving jet ski patrols.
Whilst the incident was unfolding, fellow lifeguards Steven Boyd, Jacob Pannunzio and Flynn Ross continued to monitor swimmers in the flagged area and liaise with ambulance and police.
The flagged area had already seen a busy day with three searches successfully carried out for people reported missing, all of whom were found.
After numerous rounds of CPR and four shocks from the defib, thankfully the patient started breathing again.
With further assistance from QAS, the team handed over the patient for ambulance transport to a waiting helicopter.
This is just one outstanding example of the work done by all our teams over the summer and massive congratulations to the lifeguards involved.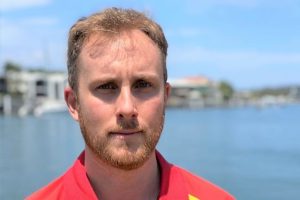 Aaron Purchase is Surf Life Saving Queensland's regional manager for the Sunshine Coast. His column in sunshinecoastnews.com.au appears each Friday to keep the community informed of what's happening on the beach and how to stay safe in the water.