Sunshine Coast duo Georgia Johnson and Caitlin Bettenay have emerged as serious threats on the national beach volleyball tour, reaching the final of the opening event despite being seeded 23rd.
The rising talents recently returned to Australia after developing their games on the US college circuit and they've immediately raised eyebrows.
In a stunning performance, they reached the final at the Cobram Barooga Classic on Sunday, before falling to established stars Becchara Palmer and Nikki Laird 21-14, 21-11 in stifling heat.
They beat some of the nation's top players en-route to the decider.
"The conditions were trying to say the least," Johnson said.
"It was no cooler than 35 degrees for any of our games, but to face Olympians in the gold medal match is unreal and a great experience for us being so young and in our first national event back in Australia."
The duo played three more games than their final opponents, progressing through qualifying and the main draw.
"The heat was next level and because we were seeded so low, we had to play eight games (in three days), so it was a very long weekend in some super tough conditions, but we were stoked to make it to the end," Johnson said.
"It was a great opportunity to put our game under pressure against those players, and to show Caitlin and I what kinds of things we need to work on at training."
They toppled third seeds and Tokyo Olympic hopefuls Phoebe Bell and Jessican Nguamo in the semi-finals 21-19 21-19.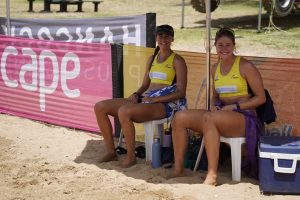 Champion Palmer lauded the Sunshine Coast team.
"Those girls did an amazing job, coming through qualifying. This is day three in the competition for them so full credit to then, they're obviously really well conditioned," she said on SBS, which is covering the series live.
"They had nothing to lose.  We played them earlier in the tournament and we knew, especially with Caitlin's serve, they can play really good hard angles.
"So, we had our strategies and knew what we needed to bring, and I think we did a good job of bringing that."
The event at Thompsons Beach on the banks of the Murray River was the first of four stops on the Australian Beach Volleyball Tour.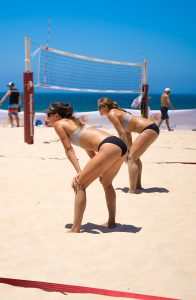 Well prepared
The tour heads to Scarborough in Western Australia and Manly in New South Wales before culminating in finals at Coolangatta.
Johnson and Bettanay should be genuine contenders for the rest of the series, given their performance at the opener.
The duo, who hold hopes of playing at the 2024 Olympics, have developed their skills in the United States during the past four years.
Johnson played with Georgia State University at Atlanta, Georgia.
Meanwhile, Bettenay was with Portland State University in Oregon and San Jose University in California.
"We're some of the first (Australian beach volleyball) athletes to graduate from that high performance pathway in the US and come back home," Johnson told sunshinecoastnews.com.au earlier this month.
"So, we're trying to be trailblazers for that pathway, so the younger (Australian) athletes can see it's a really great opportunity and you can study and play at the same time there."
The 22-year-olds have represented Australia at beach and indoor volleyball as juniors and now train with Sunshine Coast coach Peter Jones.