Ex-NRL player and recovering drug addict Jarrod Mullen has revealed how he is going to use his darkest days to brighten the futures of young professional athletes.
Mullen, a former star Newcastle halfback and NSW representative, has moved to the Sunshine Coast for a new life and a new start after grappling with drug and alcohol abuse and serving a four-year ban for anabolic steroid use.
The 33-year-old's habitual drug use came to a head when his parents found him unresponsive on a lounge chair after an overdose and he spent two days in intensive care.
In an open and revealing interview with sunshinecoastnews.com.au, he told of his deadly encounter with addiction.
"The life I was living and what I was doing, looking back now, it was just insane," Mullen said.
"But addiction is a disease. I'll forever be an addict and I've got to treat it every day.
"But if I can help anyone that's going through that sort of thing in that stage of life I will, even if they just need someone to talk to."
Mullen almost died from a cocaine overdose in 2018 and he pleaded guilty to drug trafficking in 2019 and received a community corrections order.
But he's been clean for two years and is in good spirits as he starts training with the Sunshine Coast Falcons.
He plans to help educate and support young athletes as they try to cope with the pressures of professional sport.
"I've lived that life and been through those struggles," Mullen said.
"I now know how to handle adversity when it hits you.
"The techniques I learned doing drug and alcohol counselling has put me in really good stead with my own life, and now I want to help others."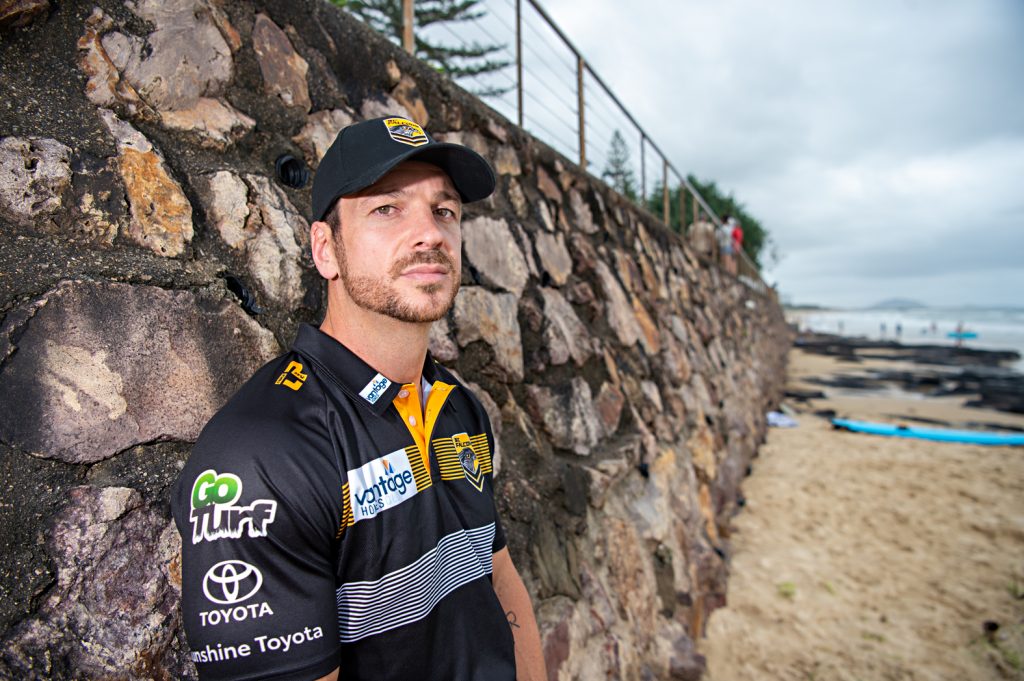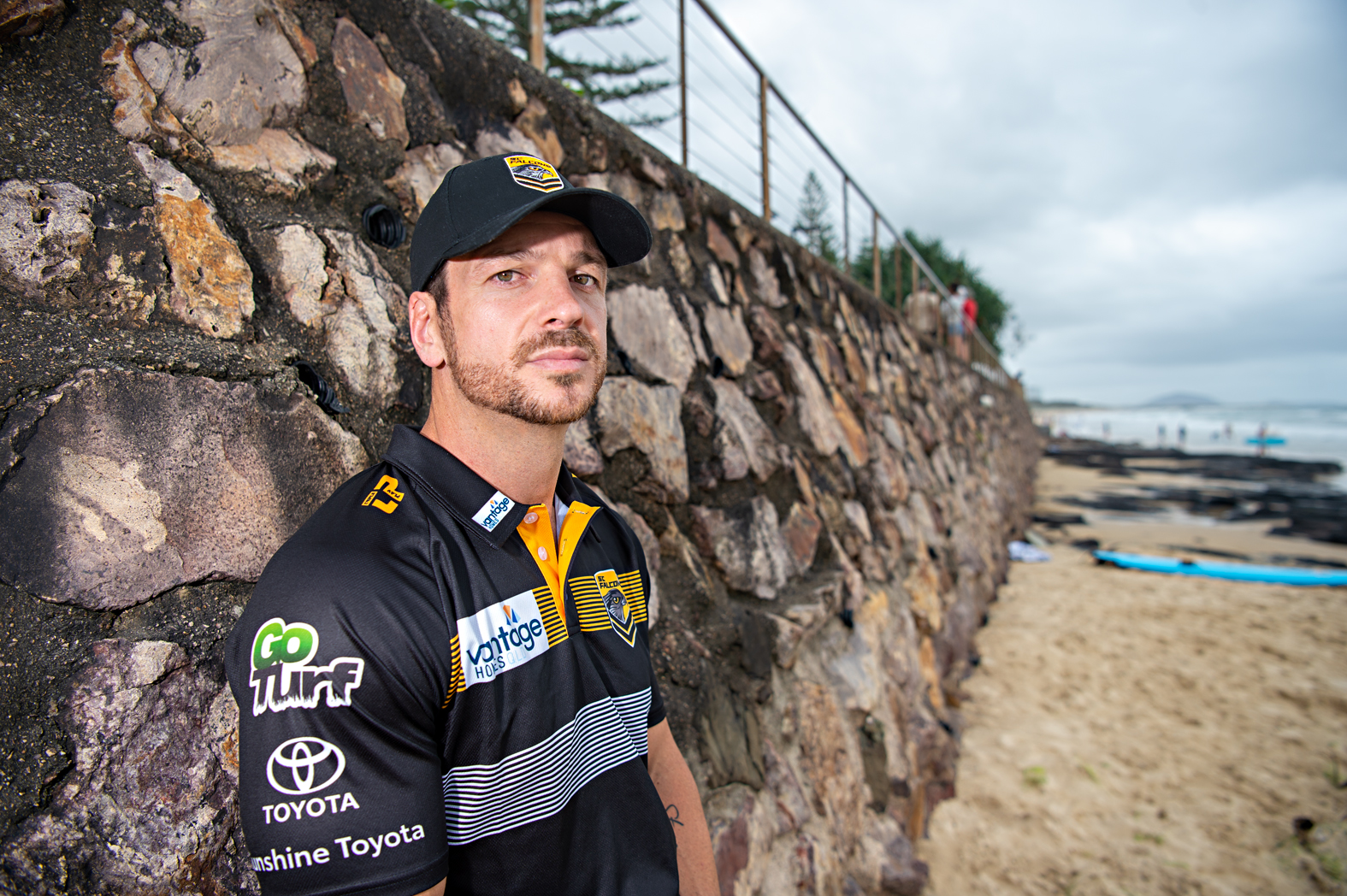 He said he can lend an ear and offer avenues of assistance.
"You don't want to point the finger and tell players 'don't do this and don't do that' because they won't listen to you but if you give them options and say, 'I'm here if you need to talk' then players will respond a lot better."
"I can use my experience to help all ages from all sports. All sportspeople face the same pressures, whether it's from media or from social media or other things."
No to drugs and alcohol
Mullen transformed his life by saying no to drugs, alcohol and social media.
The counselling was an immense help and he got perspective as a volunteer (delivering furniture) and during his 300-hour community corrections order with the Salvation Army in Wollongong.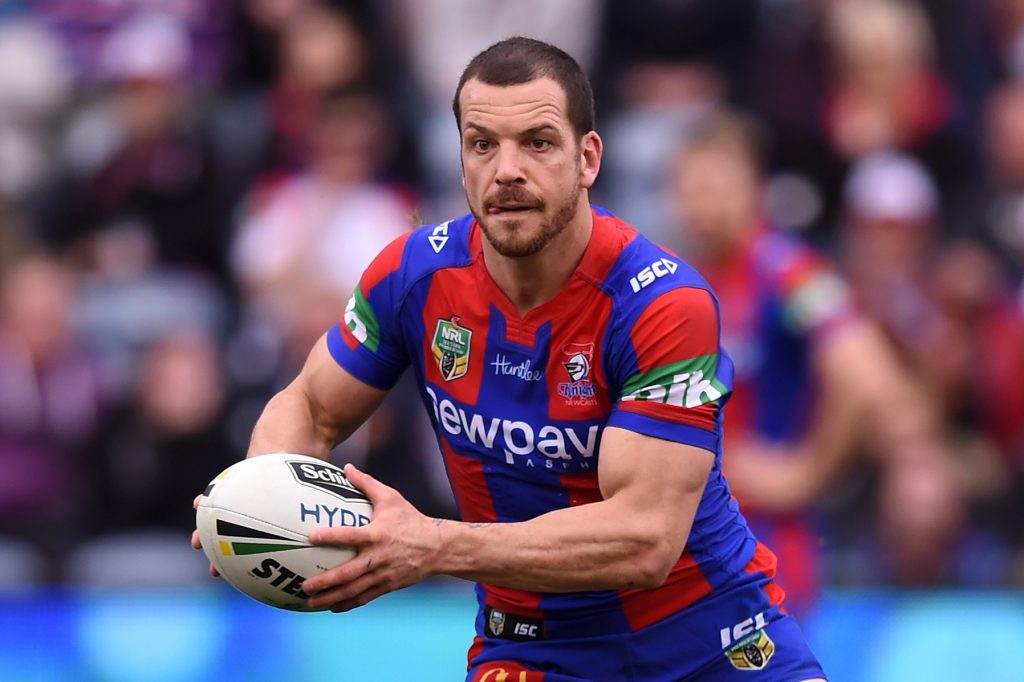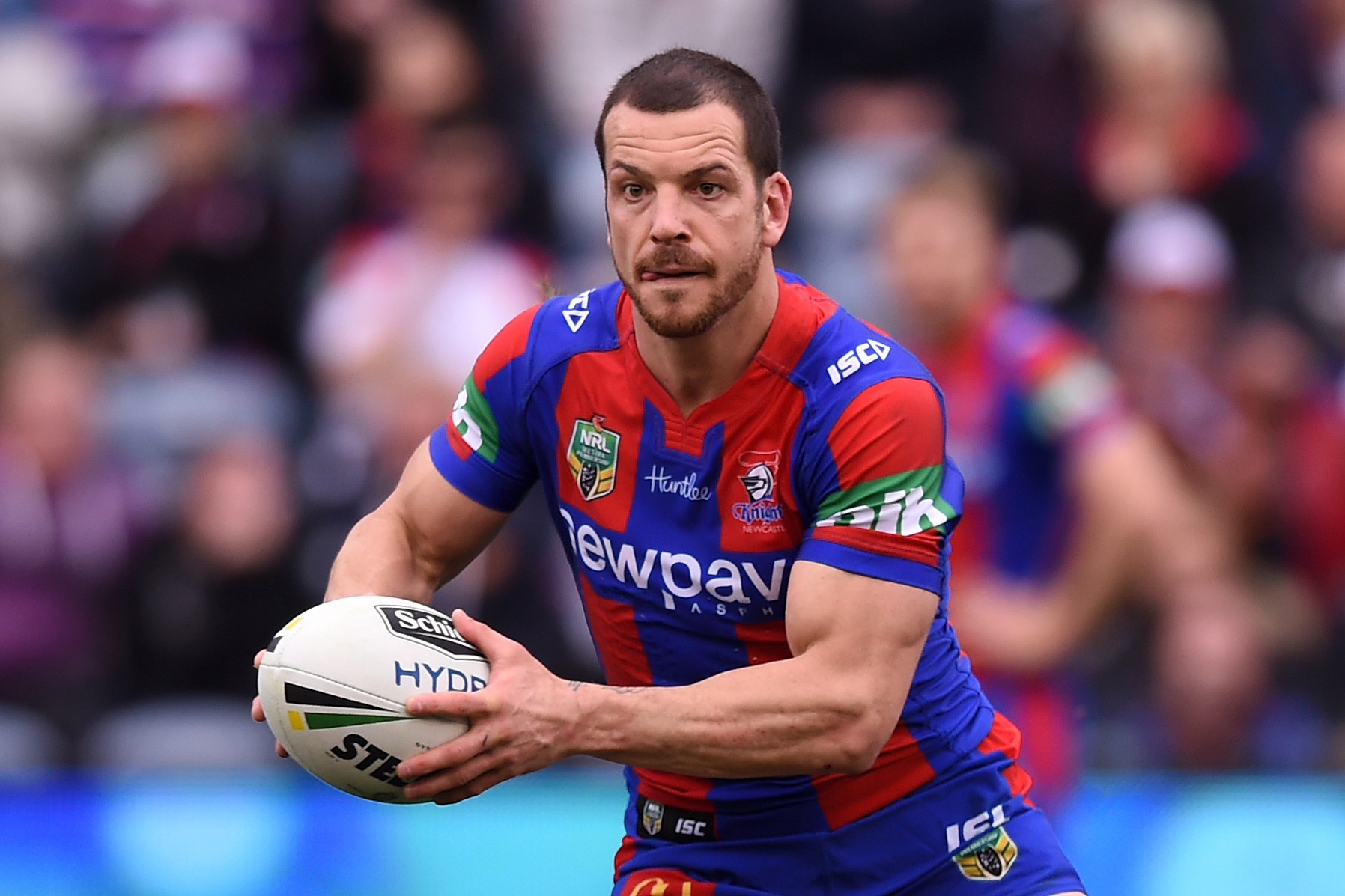 "What they do there is unreal. All the clothes that aren't sold in the shop they put in a big container and squash it down and send it to Africa and other countries, where people need clothes."
He said he's enjoying a drug and alcohol-free lifestyle.
"You can get up on a Sunday and go and do something rather than waking up in some weirdo's house.
"I'm on the right path and there's no way I'm going back to the old life, with the life I'm living now."
He's looking forward to socialising with his new team-mates, with a clear head.
"When I go to training, I've got to set boundaries and say to the other players that I don't drink anymore," he said.
"That used to be me, but I don't do it anymore. Even if I go to a function and the boys offer me beers, I'm knocking them back.
"I don't look down on anyone who drinks … but with my journey and after what I've gone through, I realise that I can't afford to drink because it leads to so many other bad things in my life.
"Coming from a rugby league culture where some people drink a lot is tough but it gets easier every day I don't (drink).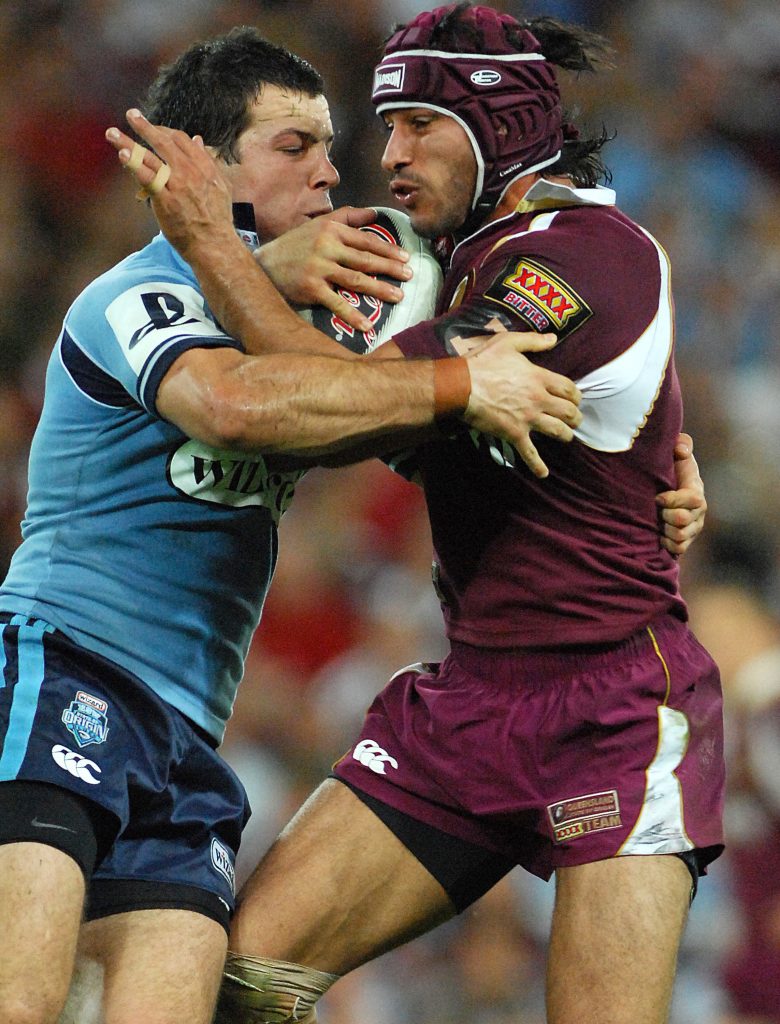 Ready for next step
Mullen will move into a house at Kawana soon, and his partner Tamara and their baby daughter Stevie will join him in a month.
He's looking for work but is focused on the Falcons.
He hasn't trained with a team for years.
"Rugby league was all I knew from under-5s to when I was 28, so being back around it is going to be very special," he said.
"I've missed that camaraderie, being in a team.
"There's only so many times you can pass a ball to a goal post by yourself down the park. So, it will be good to have someone running on to the passes."
He thanked the Falcons for signing him and he still holds on to hope he can return to the NRL.
"I'm under no illusion that four years out of the game is a long time and there are going to be times when the doubt's going to creep into my mind, but I've just got to believe in my body and ability," he said.
"Stranger things have happened and if I'm playing good football who knows what can happen.
"But to be honest, I'm really focused on the Falcons at the moment because they've put the faith in me and got me up here to do a job for them. I just want to return the favour and play some good footy for them."
Like inspiring stories? So do we. Get more direct to your inbox by subscribing to our free daily news feed: Go to SUBSCRIBE at top of this article to register.
Mullen starts team training this week.
He is confident he can be highly competitive in the Queensland Cup.
"I know within myself I can be. In the last two years, I've really trained to get my body in the right shape for a return to rugby league."
Mullen was assisted in his conditioning by Christian Woodford, who previously helped Sandor Earl return to the NRL after a four-year suspension. Earl made his way back via the Falcons.
Plenty of ability
There's no doubting Mullen's talent.
A former Australian Schoolboys representative, he made his NRL debut for Newcastle in 2005 and ultimately played 211 games for the club and one game for New South Wales in 2007 during a 16-year career, before being suspended for using anabolic steroid drostanolone.
Falcons CEO Chris Flannery welcomed Mullen to the team.
"Obviously, Jarrod is a very skilful player," he said.
"He's got a lot of experience and we'll look to bring that to the Falcons.
Flannery said the club wanted to give Mullen another chance to test his wares in the game.
"He's played for New South Wales, so we know he's got the skills and the talent but it's just a matter of reconnecting on the footy field under pressure with those skills.
"He hasn't played a game for four years so it's going to be a bit of a learning curve for him but … we're excited to be able to provide him with the chance to get back on the footy field."
Flannery said Mullen can press his NRL claims via the Falcons.
"At Jarrod's age the window for him to get back to the top level is getting smaller but he's very determined."
"First, he's got to play well for the Falcons, and we'll see what transpires after that."
He has been earmarked as the Falcons' starting five-eighth, alongside halfback Todd Murphy.
"We'll be looking for Jarrod to help steer the team around," Flannery said.
Games are set to start on March 20 and Mullen can't wait to be involved.
"I appreciate what a good life a rugby league player leads," he said.
"After all the stuff I've dealt with in the last four years, you're very privileged to do what you do (as a footballer). I won't be taking my second chance for granted, that's for sure."