While many cricket-loving teenagers focus on batting and bowling, Elias Cottrell is dreaming of the perfect pitch.
The Little Mountain 14-year-old could be the youngest official groundsman in Australia and he's eager to forge a career at the nation's top cricket venues.
Elias has already established a reputation for producing quality pitches at Caloundra Cricket Club.
And it seems there's a real future for him in the role, with a stint at Brisbane's Allan Border Field beckoning.
He currently works permanent/part time at CCC from Monday to Friday, 7am to midday.
"I was just volunteering (initially early last year), helping the head groundsman. Then the job opened up and I took it. I gained some experience, with the help of a few blokes at the club and it's just gone on," he said.
Caloundra's previous groundsman shifted to well-known Junction Oval in Melbourne, and Elias and fellow local cricket tragic Jack Cochrane took over.
The teenager has since developed his skills and taken a leading role at the club.
"I'm really into hands-on work and I enjoy preparing the wicket and using the machinery," he said.
He relishes creating a pitch which has something to offer everyone.
"As a bowler I'd love to say I like (producing) a green wicket with heaps of movement," he laughed.
"But the ideal pitch would be flat with a little bit of bounce."
He's got a passion for the role.
"I was always interested in seeing how it works," he said.
"As a player you just turn up at the ground and play but there's a lot that goes on behind the scenes to make a cricket pitch."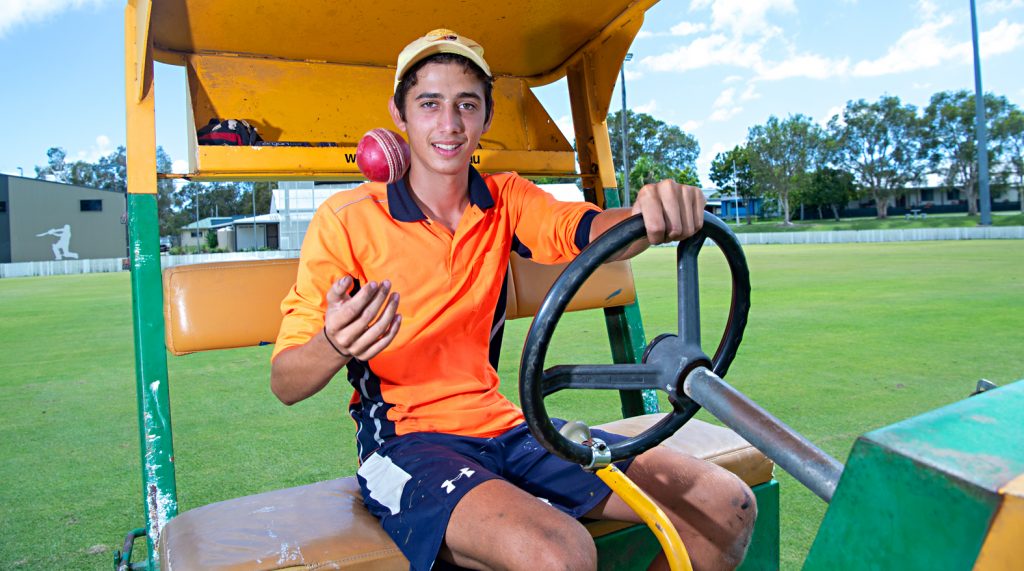 He's looking forward to a likely stint at the home of Queensland cricket, Allan Border Field.
"That will be great to get some experience from the blokes there," he said.
"I'm gaining experience, to go further with it (as a career)."
Elias is undertaking a Certificate III in Horticulture and he does his schooling in the afternoons, via Cairns Distance Education, which is suitable for his needs.
He plays for Caloundra under-16s, Caloundra third grade and for the Sunshine Coast under-15 representative team.
Flourishing in the role
His father Alex, who is the president of the Caloundra Cricket Club, said Elias was thriving  as a groundsman.
"He just loves cricket," he said.
"He showed a bit of interest (in groundskeeping) last year and it went from there.
The club believes Elias could be the youngest official (paid) groundsman in the country.
"He's preparing wickets himself, with some direction from others, rolling and mowing and doing anything for the square."
Join an independent local news revolution by subscribing to our free daily news feed: Go to SUBSCRIBE at top of this article to register.
Alex said Australian spin bowler Nathan Lyon was an inspiration, having worked as groundsman at Manuka Oval in Canberra and the Adelaide Oval, before becoming a mainstay for the national team.
"Elias thinks he's a bit of legend," Alex said.
And Alex believed Elias's efforts will attract interest from venues around the country, and he can make big strides as a groundsman.
"He can go as far as he wants with it if he wants to."
"He'll outgrow Caloundra. We think Caloundra cricket fields are the nicest ones on the Sunshine Coast and Elias' work is getting even better so that (his reputation) will become well known.
"He's only 14 so and by the time he's 18 or 19 so who knows where he will be because of his love for the game."
And Elias is receiving some expert advice.
One of his neighbours is Peter Semos, who was head curator at the Melbourne Cricket Ground in the 1980s.
"Pete now travels the world setting up fields and does the drainage," Alex said.
"We spend some time with him and have a chat … he's very educated in that area (groundskeeping) but he's a very humble guy."
Elias' brother Isaac plays for the Sunshine Coast Scorchers second grade team in the Queensland competition.