Sunshine Coast accommodation providers have been inundated with calls from Brisbane  residents looking for a beach bolthole before their city goes into a three-day lockdown.
Motorists also are reporting the Bruce Highway is solid from Brisbane to the Coast as people escape in droves ahead of the 6pm Friday deadline.
Tracey Harris, of the Caloundra Holiday Centre which manages 155 properties, said the phones had been ringing hot.
She said Brisbane people were desperate to get accommodation on the Coast so they could be up here relaxing while the tighter restrictions were in force.
"There's a race to get any accommodation going up here," she said.
"We have about 80 people due to check in tomorrow and they have been asking if they can get here a day early.
"We couldn't really do that so many are coming up anyway and staying the night with friends or relatives."
However there has also been a rush of cancellations with many people forced to abandon their holiday.
A Visit Sunshine Coast spokesperson said the lockdown would "have an impact and disruption on our local tourism industry".
"However, now more than ever we all need to listen to, and adhere with the public health directions."
Meanwhile Sunshine Coast sporting groups have had to cancel games, training and events for the next three days.
Sunshine Coast Cricket has cancelled all matches scheduled for the weekend and the Queensland Open beach volleyball tournament due to be held at Mooloolaba Beach Saturday has been postponed.
Surf clubs have withdrawn athletes from a competition at the Gold Coast and urged members not to train together until the latest crisis blows over.
Ms Harris said there were 20 calls in the 10 minutes after Premier Annastacia Palaszczuk made the snap lockdown announcement.
She said most holidaymakers booked from Saturday had kept their bookings and would come up after the three-day window.
"Hopefully, this won't be extended and they can still come."
A Sunshine Coast family returning home early from Brisbane after visiting relatives said that at 11am the traffic heading north was travelling at 40km/h in the 100km/h zone.
"It's very slow. There are so many people heading out of Brisbane. They are all heading north."
Earlier
Greater Brisbane is being placed in lockdown for three days from 6pm Friday after a hotel cleaner tested positive to the highly contagious UK strain of the virus.
Masks will also be mandated when leaving home (except for children under 12) as authorities move early to prevent any chance of the coronavirus spreading.
The lockdown does not include the Sunshine Coast however people who are visiting the Sunshine Coast may return home to Brisbane.
The lockdown includes Brisbane, Logan, Ipswich, Moreton and Redlands local government areas but excludes the Sunshine and Gold Coasts.
It immediately triggered a panic buying frenzy, with supermarkets shelves stripped bare despite the fact that shopping for essential goods will be permitted during the lockdown.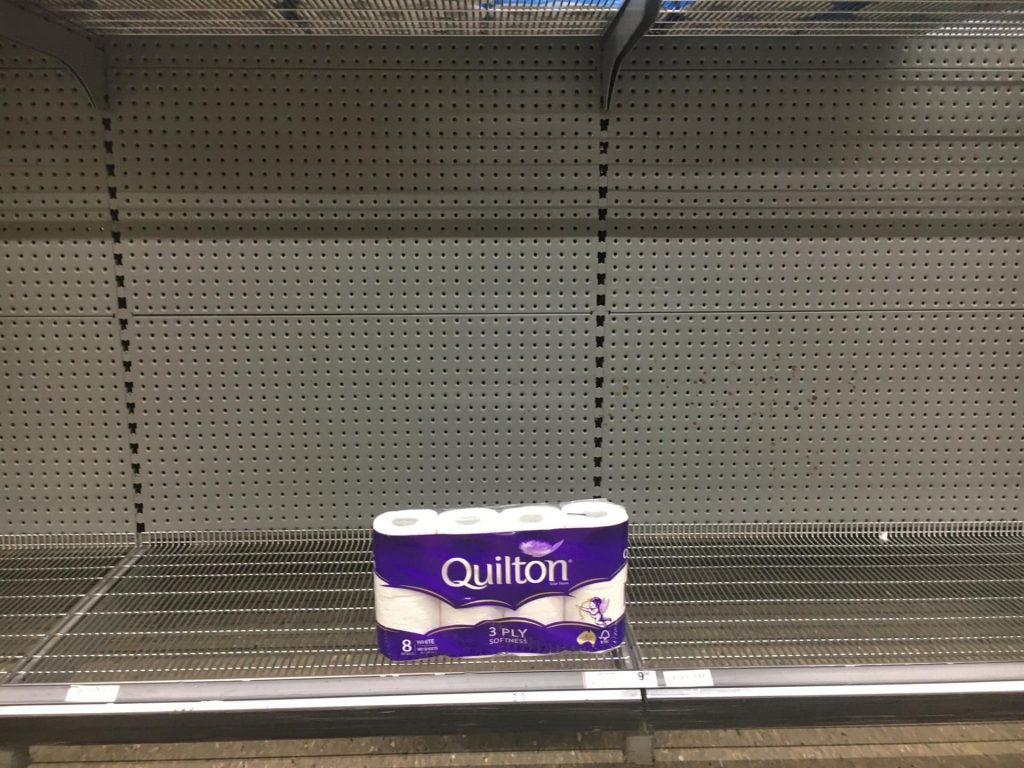 Queensland Health issued an "urgent" reminder that supermarkets and essential businesses would remain open and there were no concerns about supplies.
People will be required to stay at home until 6pm Monday except:
• to attend work if you can't work from home;
• to buy essentials like groceries and medicine;
• look after the vulnerable; and
• exercise within their neighbourhood
Greater Brisbane residents have also been told not to plan a weekend trip away.
People can enter Brisbane during the lockdown period but are bound by the same restrictions.
Non-residents currently in Greater Brisbane are strongly encouraged to remain until the end of the restriction period.
Premier Annastacia Palaszczuk said the state had decided "to go hard and go early".
"This is very serious," Ms Palaszczuk said.
"If we do not do this now it could end up being a 30-day lockdown," she said.
"I know this is going to be tough on businesses over the next few days, but I'm thinking about your long-term futures as well."
Ms Palaszczuk told people to stay in their neighbourhoods for the next three days and to stay at home as much as possible.
BREAKING: Following a confirmed case of the highly infections UK coronavirus strain, Greater Brisbane will be entering a three day lockdown.

These measures are tough, but they are important to keep our community safe.#covid19 pic.twitter.com/o8CfnRraYl

— Annastacia Palaszczuk (@AnnastaciaMP) January 7, 2021
Dr Jeanette Young said Queensland was acting early to prevent further pain down the track.
"We can't put it back in the box. We've got to act before it spreads. It's too late if it spreads to try and undo that spread.
"That's why we've got to act today. We've got to act really fast."
It comes as a cleaner tested positive to the super-spreading UK strain of the virus, forcing a lockdown of the hotel where she worked.
The woman was in the community for five days from about January 2 while potentially contagious and public alerts have been issued for places she visited.
The cleaner is Australia's first case of the more infectious strain of the coronavirus outside of quarantining returned overseas travellers.
Dr Young said the UK variant was 70 per cent more contagious.
Nine new coronavirus cases were detected overnight, all in hotel quarantine.
Under the Greater Brisbane lockdown, cafes, pubs and restaurants will be open only for take-away service.
Funerals will be restricted to 20 guests and weddings restricted to 10 guests.
There is a limit of two visitors in homes and people are allowed to exercise with one other.
Chief Medical Officer Paul Kelly said the situation in Queensland was concerning.
"We do know that we've had cases of the UK variant in our hotel quarantine system," he told ABC RN on Friday.
"And we do know sometimes with a very complex system which relies on humans, mistakes can happen. That apparently is the case here."
The hotel cleaner's infection ended almost four months of zero locally acquired cases in Queensland.
She visited several locations while potentially infectious and contact tracers are tracking her movements.
The woman travelled on a train from Altandi station to Roma Street station at 7am on January 2, then returned on the 4pm service the same day.
She also visited Woolworths at the Calamvale Central Shopping Centre from 11am to 12pm on Sunday 3 January.
She was at Coles in Sunnybank Hills for 30 minutes from 7.30am on Tuesday 5 January and a newsagent at Sunnybank Hills Shopping Town from 8am to 8.15am on the same day.
Residents of Algester, Sunnybank Hills and Calamvale who have symptoms of the infection are especially urged to get tested as soon as possible.
-with AAP