US president-elect Joe Biden is calling the violent group that descended on the US Capitol "domestic terrorists" and laying the blame for the violence squarely at President Donald Trump's feet.
During remarks in Wilmington, Delaware, on Thursday, Biden said people should not call the hundreds of Trump supporters who broke into the Capitol protesters.
Rather, he said, they were "a riotous mob – insurrectionists, domestic terrorists".
Biden said Trump was guilty of "trying to use a mob to silence the voices of nearly 160 million Americans" who voted in November.
Biden said the president has "made his contempt for our democracy, our constitution, the rule of law clear in everything he has done" and unleashed an "all-out attack" on the country's democratic institutions that ultimately led to the violence on Wednesday.
Donald Trump has invoked the wrath of both sides of politics who accused him of inciting a "coup" on what has been described as a dark day for America.
After an extraordinary day of violence and political discord in the nation's capital, at least two governors are calling for Mr Trump's immediate removal from office even though he has only two weeks left.
Democrat Illinois Governor J.B. Pritzker, and Vermont Republican Governor Phil Scott issued public statements calling for Mr Trump's removal as a matter of public safety.
Some have called for immediate impeachment proceedings while others suggest invoking the emergency protections of the 25th amendment.
"There is no question in my mind that his efforts to encourage a coup represent high treason to this democracy, our Constitution and all Americans. He poses a danger to our nation," Governor Pritzker said in a statement.
"This violence is the natural conclusion of Donald Trump's efforts to unleash the forces of hate and divide our nation. It must end."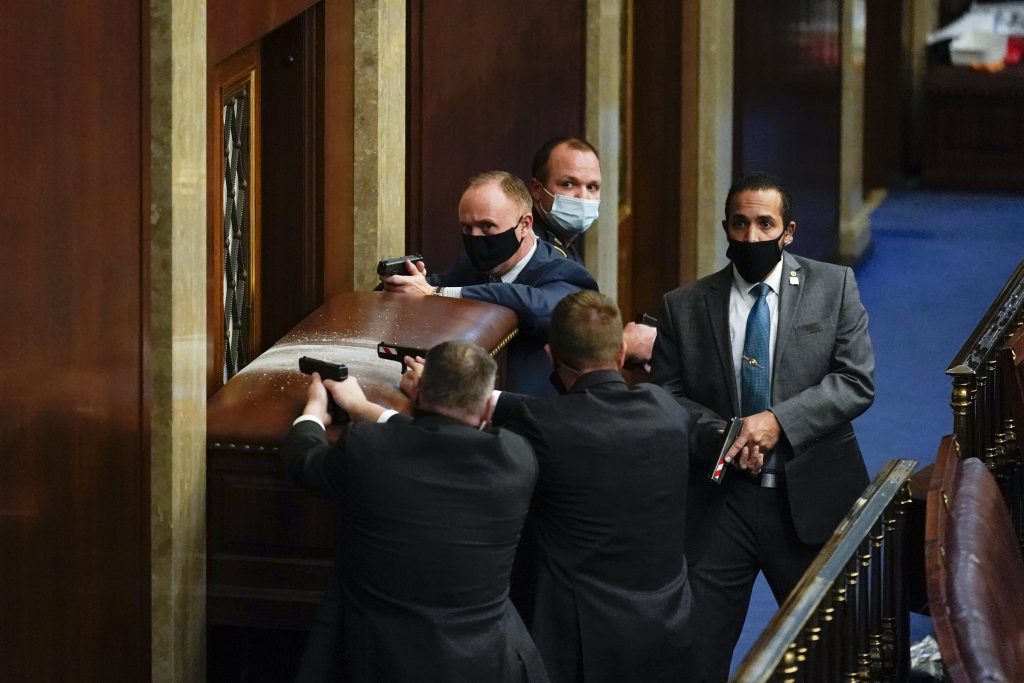 Among the most damning condemnations of Mr Trump came from his former Defence Secretary James Mattis who had a rocky relationship with the president before he left the administration in December 2018.
"Today's violent assault on our Capitol, an effort to subjugate American democracy by mob rule, was fomented by Mr. Trump," Mattis told Politico.
"His use of the Presidency to destroy trust in our election and to poison our respect for fellow citizens has been enabled by pseudo political leaders whose names will live in infamy as profiles in cowardice."
Meanwhile two top aides to first lady Melania Trump have resigned and more top White House officials are considering resigning, including national security adviser Robert O'Brien and his deputy, Matthew Pottinger.
Stephanie Grisham resigned as chief of staff to the first lady.
Earlier
Pro-Trump supporters forced the lockdown of the US Capitol as Joe Biden was expected to be officially affirmed as the presidential winner.
In a dark day for America, protesters breached the Capitol and stormed the building, forcing the evacuation of lawmakers.
As Congress met to certify Mr Biden's win, protesters entered the building and marched the halls, while one protester occupied the Senate dais and yelled, "Trump won that election."
In raucous, out-of-control scenes, protesters fought past police, shouting and waving Trump and American flags as officers deployed tear gas inside the building.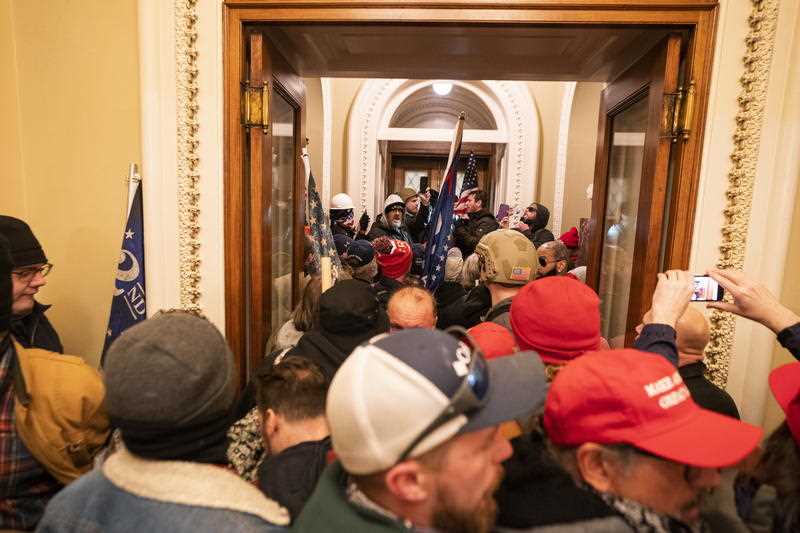 House and Senate leadership were evacuated and whisked away to an undisclosed location while the National Guard was deployed to restore order and the Washington mayor declared a citywide curfew.
The FBI swat team swooped in floor by floor.
Lawmakers had been debating a last-ditch effort by pro-Trump lawmakers to challenge the results, an effort that was unlikely to succeed.
One woman who was shot in the Capitol has died.
CNN reports it is the first time the US Capitol has been breached since the British attacked and burned the building in August of 1814, citing Samuel Holliday from the US Capitol Historical Society.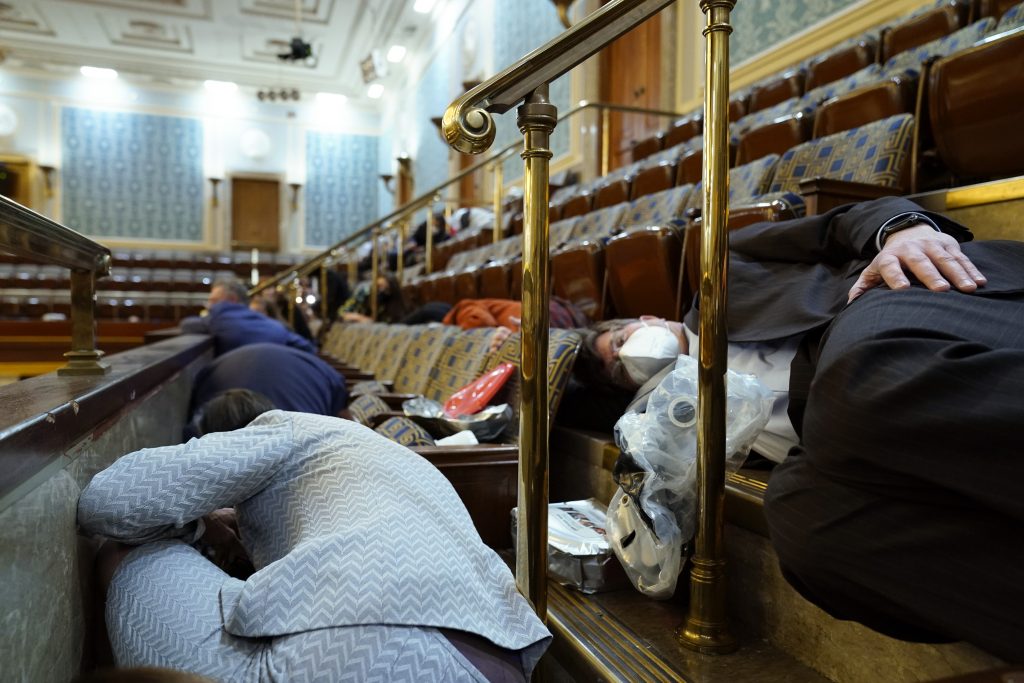 Trump demonstrators tore down metal barricades at the bottom of the Capitol's steps and were met by officers in riot gear.
Some pushed past the officers who held shields and officers could be seen firing pepper spray into the crowd to keep them back.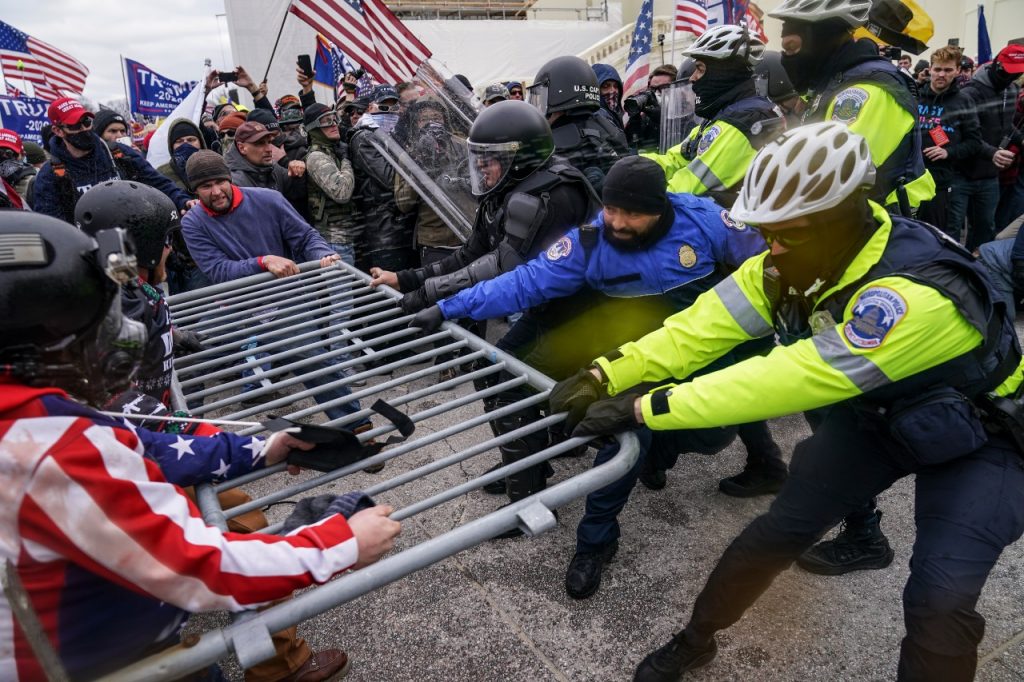 The skirmishes came just shortly after President Donald Trump addressed thousands of his supporters, riling up the crowd with his allegations of election fraud.
Mr Trump, who is due to leave office on January 20, vowed "we will never concede" as he took the stage at the Save America rally.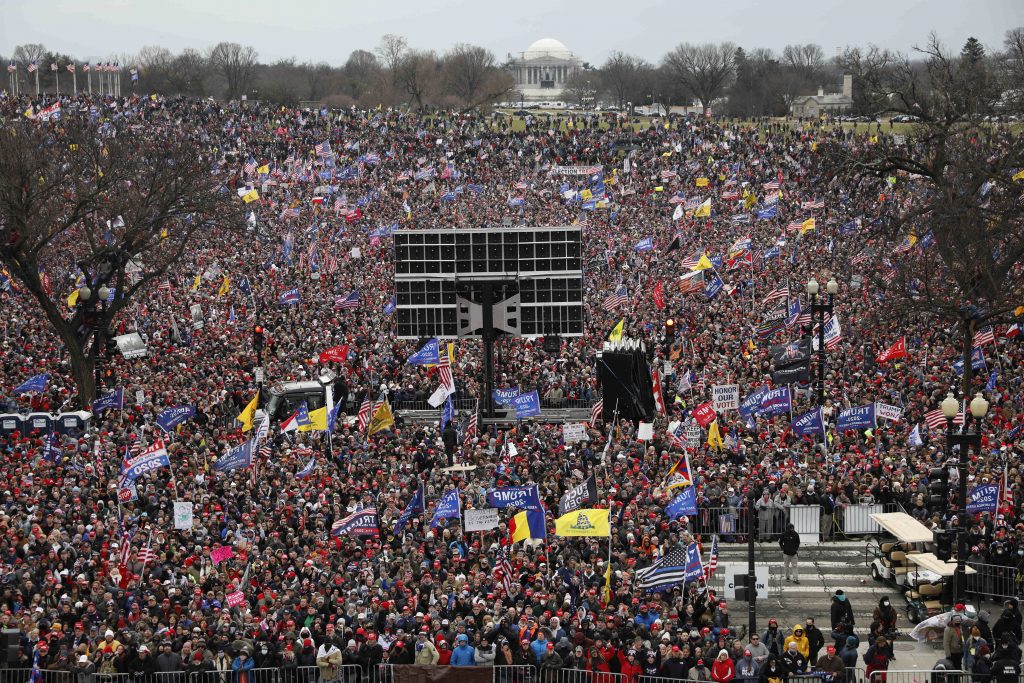 He urged Vice President Mike Pence, who will play a largely ceremonial role in the process, to block certification of Mr Biden's win.
"Our country has had enough," Mr Trump said. "We won't take it anymore."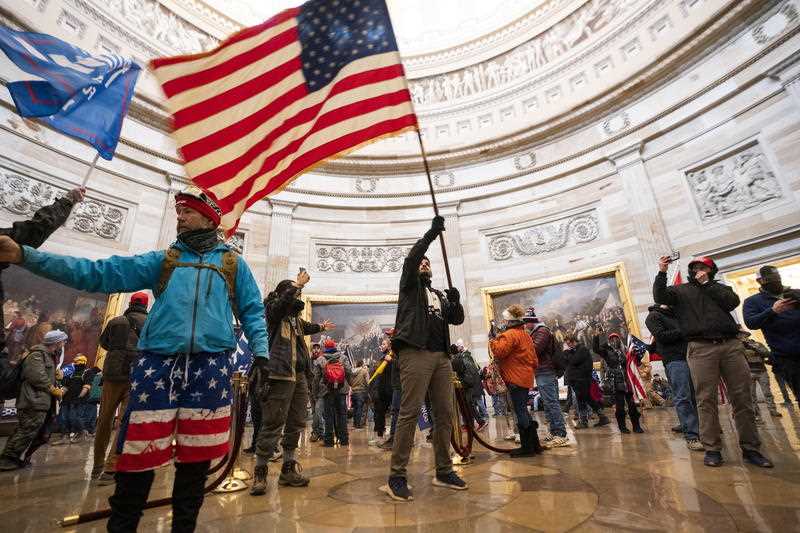 Lou Murray, a life insurance salesman from Boston, said he and many others still hoped Congress and Pence would not certify the vote.
"I hope Vice President Pence has courage today and I hope any politician who thinks he has a future shows courage to stand up and do what's right," Mr Murray said.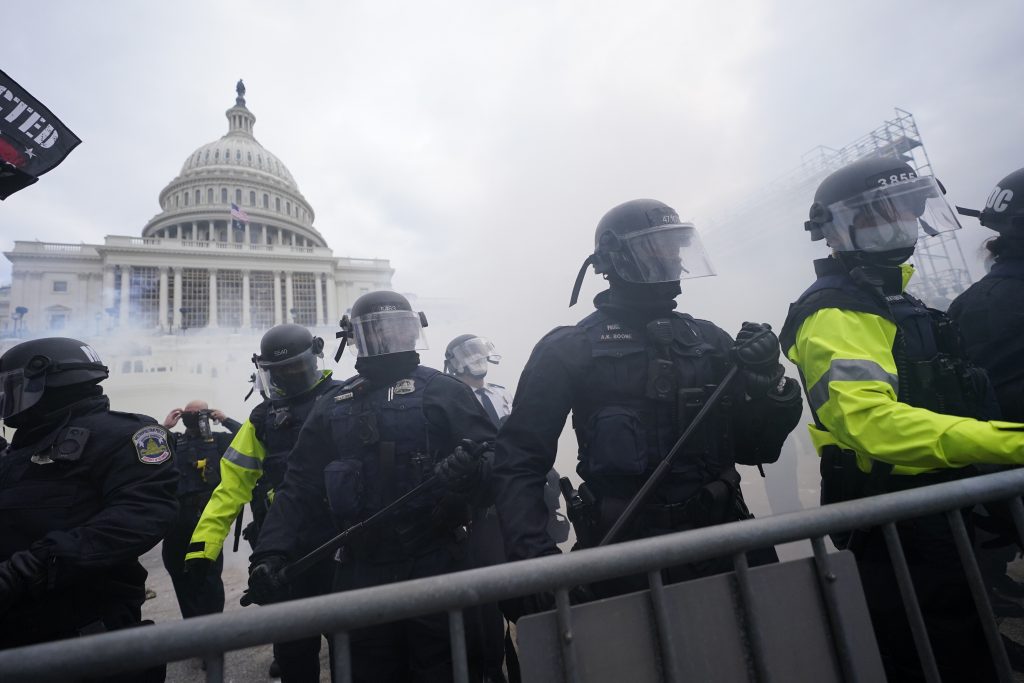 After earlier inciting his supporters to oppose the election results, Mr Trump later tweeted a video urging his supporters to go home "with love & in peace" — but still claimed the election was stolen.
"These are the things and events that happen when a sacred landslide election victory is so unceremoniously & viciously stripped away from great patriots who have been badly & unfairly treated for so long," Mr trump tweeted.
"Go home with love & in peace. Remember this day forever!"
Twitter later blocked Mr Trump's account for 12 hours and the video was removed.
President-elect Joe Biden said the "scenes of chaos" did not reflect America but were the work of a "mob" of "extremists" bent on preventing democracy.
Mr Biden said he was shocked that the USA, once a beacon of light, had come to "such a dark moment".
"America's got honour, decency and respect, tolerance — that's who we are," he said.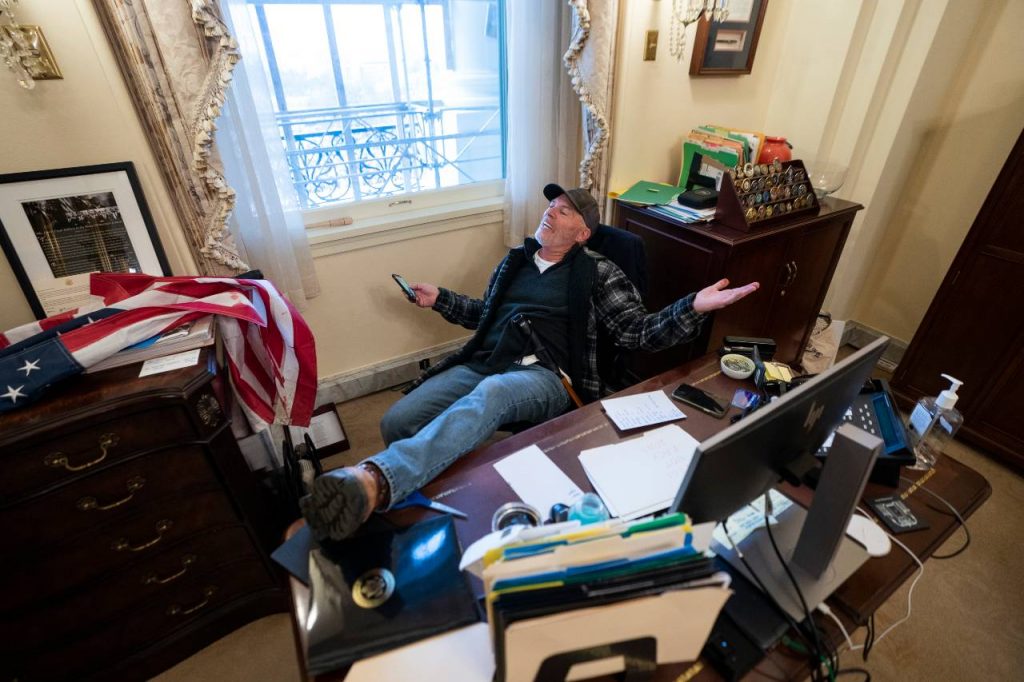 Republican Alan Kinzinger, from Illinois, called the chaos a "coup attempt" by conspiracy theorists and denounced the US president in a tweet.
"You are not protecting the country. Where is the DC guard? You are done and your legacy will be a disaster," he tweeted.
He told CNN: "When you don't tell people the truth, you end up getting people to believe the conspiracies and the false proof, and you get Capitol storms like the one today.
"This is absolutely, utterly despicable, and every single Republican leader has got to call this out forcefully and be held accountable."
You are not protecting the country. Where is the DC guard? You are done and your legacy will be a disaster. https://t.co/7jWYWE7TVj

— Adam Kinzinger (@RepKinzinger) January 6, 2021