Sunshine Coast doctors are coming in on days off and working overtime to assist with a surge in demand for COVID testing.
People are waiting several hours in queues as clinics struggle to cope with the sudden demand for testing.
On Saturday, anybody who had been in Victoria since December 21 was told to get tested and self-isolate until they get their results.
It has led to long waits at some pathology clinics while many people are unable to get through on the phone to register ahead of testing as required at Queensland Health fever clinics.
Buderim Medical Centre practice manager Maria Fahey said the Sullivan Nicolaides Pathology clinic next door had been swamped with people, with a queue snaking around the corner when it opened on Monday morning.
Ms Fahey said the medical centre reached out to help the pathology clinic by undertaking testing while also seeing their scheduled patients.
"We have tried to help them during the day and one of our doctors has come in this afternoon and another one of our doctors who was working this morning has stayed around," she told sunshinecoastnews.com.au
Ms Fahey said people with health problems like diabetes "were fainting standing around for hours in the heat".
A number of pathology clinics on the Coast are operating as as dedicated COVID testing centres and Queensland Health also has fever clinics.
Residents requiring testing may also book an appointment with private GPs.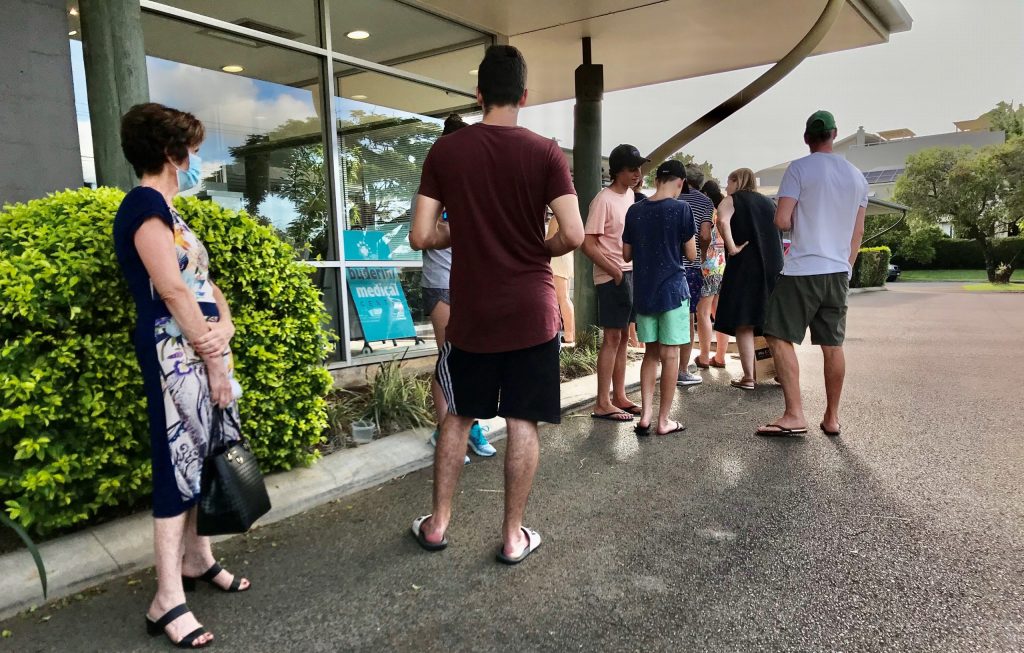 Chief Health Officer Jeannette Young said almost 6300 tests were done on Sunday and there were 83 Queensland Health fever clinics operating around the state.
"There is a lot more testing capacity now available across the state, we've also increased the hours of opening and the numbers of staff in a lot of those clinics," she said on Monday.
"I know that there have been some queues that have developed over the weekend in some of those clinics and I thank the people who persevered and got themselves tested, that is really, really important," she said.
Acting Premier Cameron Dick said he didn't want anyone to have to wait, but the reality was people had responded to the call to get tested.
"They've responded in very significant numbers to do the right thing, and we are providing the resources that we need to do as a state to ensure they can be tested as quickly as possible," he said.
People can be tested at their local doctor, at a Queensland Health fever clinic or various pathology clinics across the coast.
For locations click here.
Join an independent local news revolution by subscribing to receive our FREE daily news feed: Go to SUBSCRIBE at top of this article to register
Earlier
People who have travelled to Victoria will be restricted from visiting facilities like aged care homes, as Queensland recorded five new cases of COVID-19 in hotel quarantine.
Anyone who has travelled to Victoria, which has a new coronavirus cluster, in the past two weeks has been banned from visiting Queensland's aged care facilities and hospitals.
The new restriction came into force from 1am on Monday and also apply to people wanting to visit other vulnerable facilities like disability accommodation and prisons.
"We're responding quickly to protect people in these facilities by restricting any visitors who have been in high-risk locations so we can keep them as safe as possible," Chief Health Officer Jeannette Young said.
At the same time, visitors from Victoria in Queensland are being advised to get tested for coronavirus and self-isolate until they get their test results.
Queensland has 17 active cases and the state has so far racked up 111 days without a case of community-based infection.
Recent positive cases have been reported in hotel quarantine, including a child who returned from Pakistan on the weekend.
"It's just important that people keep on testing," Dr Young said.
She advised people to "keep engaged" while on holiday to stay alert because things could "unfortunately rapidly change".
The Queensland border is already closed to anyone who has been in the COVID-declared hotspots of Greater Sydney and surrounding areas in the past 14 days. Those restrictions are expected to be reviewed on January 8.
"We don't need to extend any border restrictions to Melbourne or Victoria but we're keeping a very close eye on that," she said.
Queenslanders who've been in Victoria on or since December 21 have already been advised to get tested and quarantine at home until they get their results.
Hundreds of people queuing to be tested in Brisbane on Saturday were turned away, after authorities urged testing and isolation for anyone in Queensland who has been in Victoria on or since December 21.
Lines were reportedly up to 500m at the Royal Brisbane and Women's Hospital late in the day, when crowds still faced lengthy waiting times at Brisbane's only open testing clinic.
Opposition health spokeswoman Ros Bates was confounded by the situation.
"I am dismayed as to why this clinic closed at 9pm despite only hours earlier Labor urged anyone from Queensland who'd been to Victoria since December 21 to immediately get tested," she told reporters.