Traces of the coronavirus recently detected in Nambour sewage have been described as "concerning", but just how worried should we be?
Queensland's world-leading wastewater testing program can pick up COVID in a community before people even start showing symptoms.
The 'early warning' system unearthed COVID in sewage from Nambour's treatment plant in December and it was found in Maroochydore in mid-October.
Testing is also regularly undertaken at Kawana and Noosa.
The Nambour discovery, along with eight other sites in Queensland, has been described as "concerning" by the chief health officer Dr Jeannette Young, given the ongoing spread in NSW.
Join an independent local news revolution by subscribing to our free daily news feed: Go to SUBSCRIBE at top of this article to register
Testing of Queensland sewage has been happening since July and the results are publicly available.
Here's everything you need to know about coronavirus in our wastewater.
Flushing out COVID
When someone becomes infected with COVID-19, they begin shedding the virus in their faeces about two to three days later.
This shedding starts well before people experience symptoms, and indeed many people remain asymptomatic.
The principle behind testing is to detect genetic fragments of the virus that have disintegrated into the sewage when faeces are flushed down the toilet.
How is sewage collected?
Queensland's testing process was developed by the University of Queensland and the CSIRO and is undertaken in partnership with Queensland Health.
Professor Kevin Thomas, director of the Queensland Alliance for Environmental Health Sciences (QAEHS), said sewage samples were taken twice a week in south-east Queensland and once a week in regional areas.
On the Sunshine Coast, Prof Thomas said Unity Water collated a sample over a 24-hour period by collecting numerous small doses every 15 minutes from incoming wastewater.
Those small doses were mixed to create a sample of about 100mm which were sent for testing at the CSIRO, he explained.

The Nambour sewage treatment plant covers and area that includes Bli Bli, Burnside, Coes Creek, Eerwah Vale Eumundi, Highworth, Image Flat, Kulangoor, Nambour, Palmwoods, Parklands, Rosemount, West Woombye, Woombye and Yandina.
How is sewage tested?
Sewage is examined much in the way people's saliva and nasal mucus are tested for 'genetic fingerprints' of SARS-CoV-2.
The samples are first filtered to separate the bits of virus from the rest of the untreated waste.
A method known as reverse transcription-quantitative polymerase chain reaction (RT-qPCR) amplifies and detects fragments of the virus' genetic code.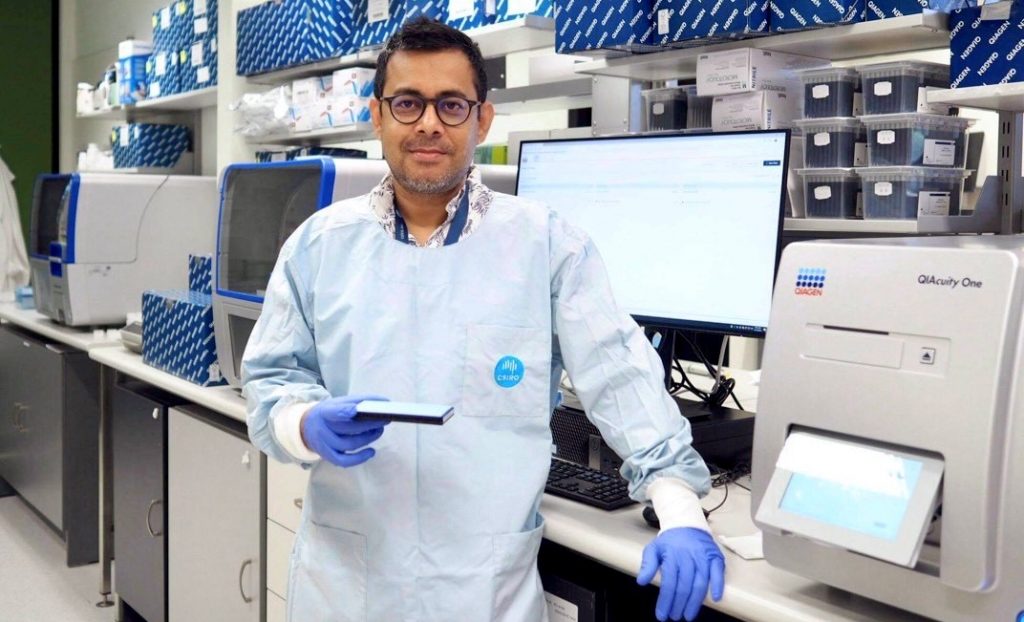 "RT-PCR is the standard way of testing for SARS-CoV-2, whether it involves samples of saliva, nasal mucus, or wastewater," explained Professor Trevor Drew, director of CSIRO's Australian Centre for Disease Preparedness.
"So we're simply applying a similar diagnostic testing approach used in individual testing to the collective SARS-CoV-2 'signature' of entire communities."
Why test the sewage for COVID?
Scientists say sewage testing is a useful 'early warning' system because it can detect the coronavirus days and even weeks before cases emerge in the community.
This is because people begin shedding the virus in their faeces well before they would have cause to get tested.
A study published in Science of the Total Environment found sewage testing could unearth the coronavirus several weeks before people went for a test.
In the study, coronavirus was found in Brisbane wastewater in late February this year, up to three weeks before the first clinical case was reported in the area.
While sewage sampling would never replace individual testing, it is considered a useful tool that could be applied across the world.
What do the results mean?
A positive result in the sewage does not necessarily mean people in the area are infected with the coronavirus.
This is because people continue to shed the virus in their faeces even after they are no longer infectious.
So if the virus was detected on the Sunshine Coast, it could mean someone from NSW who was no longer infectious was visiting the area.
However the recent discovery of the virus in sewage from nine Queensland treatment plants, despite no locally acquired cases of the disease in Queensland, has raised concerns.
Viral fragments were detected at Victoria Point, Oxley Creek, Goodna, Fairfield, Redcliffe, Cairns North, Nambour, Bundamba (West Moreton) and Merrimac (Gold Coast).
Dr Jeannette Young has urged people in Nambour and other locations to get tested and for people to remain COVID-safe.
"We are concerned given this is the first time we've had seven locations test positive at the same time," she said.
"It's not just residents we want to reach, but holiday-makers as well."
Professor Thomas said virus in sewage was a "clear reminder that the virus is out there and we haven't totally gotten rid of it.
How are the results used?
Dr Jeannette Young has been updating Queenslanders when sewage turns up traces of the coronavirus and the results are also posted online here.
But the findings have not resulted in any public health alerts or intervention measures.
In the future, scientists say testing could be used to isolate and target restrictions or public health interventions to specific areas rather than across the board.