Blaming Queensland for reacting to the Sydney coronavirus cluster with tough border restrictions is "a bit rich" coming from NSW, Premier Annastacia Palaszczuk said.
Queensland has put in place a hard border excluding arrivals from Greater Sydney until at least January 8.
"If there hadn't been the cluster outbreak in the northern beaches, well no one would have had to take these measures and everybody would have been seeing their family and friends over this Christmas and new year period," Ms Palaszczuk said.
"I think it's a bit rich for New South Wales to start blaming Queensland and Victoria and whichever other state and territory she wants to blame.
"This has happened in NSW, it has happened in the northern beaches, and we wish them all the very best, but we do not want our lifestyle compromised."
Queensland conducted 13,000 Covid-19 tests in the past 24 hours as the state continues a testing blitz while enforcing a hard border closure.
There was one new case recorded in hotel quarantine overnight, and it has now been 99 days without a case of community transfer.
"We are looking at having Christmas as near to normal as we possibly can," Ms Palaszczuk said.
Queenslanders who have been in Sydney since December 10 were given until 1am on Tuesday to get home with those arriving after being required to be tested and go into self-isolation.
NSW restrictions
COVID-19 restrictions in NSW have been tweaked from Christmas Eve to Boxing Day, with different rules applying to four zones for the Christmas holiday period.
Christmas in Sydney's coronavirus-hit northern beaches has been partially salvaged with locked-down households there allowed to welcome up to five visitors.
NSW recorded eight new locally acquired cases of COVID-19 in the 24 hours to 8pm on Tuesday, with seven connected to the Avalon cluster which now totals 97 infections.
The eighth case is a close contact of an infected quarantine nurse who was confirmed COVID-positive on Tuesday.
However, NSW Health now believe the nurse is genomically connected to the Avalon cluster, rather than COVID-positive returned travellers.
The tally of eight local COVID-19 cases came from almost 42,000 tests.
Premier Gladys Berejiklian announced a four-tier system for Christmas gatherings across NSW would be implemented from Christmas Eve to Boxing Day, with a return to the current restrictions on Sunday.
Restrictions for regional NSW will remain unchanged, while up to 10 people and unlimited children aged under 12 will be permitted to visit another home on Christmas Eve, Christmas Day and Boxing Day across Greater Sydney.
The northern beaches, meanwhile, will be split into two for Christmas restrictions.
Residents north of the Narrabeen Bridge, at the epicentre of the cluster, will be allowed to host up to five people in their homes – however their guests must live within that designated zone which stretches west as far as the Baha'i Temple.
Up to 10 people will be permitted to visit homes on the southern end of the peninsula, in suburbs such as Manly, but locals may not leave the area for gatherings elsewhere.
All people on the northern beaches have been told to avoid visiting aged care facilities, while those in Greater Sydney have been advised to take extreme care.
Ms Berejiklian also announced NSW hospitality venues and hairdressers would from January be obliged to use the government's QR code system as compliance remained below expectations.
NSW Health has issued fresh health alerts for venues around Sydney and the regional towns of Orange and Gundagai after they were visited by people with COVID-19.
The entire northern beaches local government area is currently in lockdown under a public health order that's due to expire at midnight.
Thousands of people around the state are self-isolating and will continue to do so over the festive period.
All state and territory borders are closed to people travelling from Greater Sydney.
Earlier
Queenslanders are fleeing NSW in droves as those left behind prepare to learn how they'll spend a COVID-safe Christmas.
Two days out from Christmas Day, long traffic queues are expected to again greet people entering Queensland and Victoria after both states earlier closed their borders to NSW.
Fifty-seven vehicles containing 115 people were turned away at Queensland roadblocks on the first day of the closure on Tuesday, while there were reports of a three-hour wait for some motorists on the Hume Highway at Albury.
ACT Police have opted not to man the dozens of border crossings from NSW and instead will randomly pull over cars along the Federal Highway.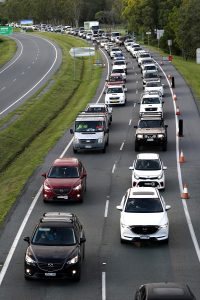 People who have been in Greater Sydney are currently banned from visiting every state and territory in Australia over the growing northern beaches outbreak.
Those who do decide to travel interstate must undergo mandatory 14-day hotel quarantine on arrival.
It comes as NSW Premier Gladys Berejiklian prepares to reveal Christmas gathering restrictions for Sydney.
A decision will be made on gathering rules for Christmas Eve, Christmas Day and Boxing Day when the NSW cabinet meets on Wednesday.
Eight new local COVID-19 cases were recorded in NSW in 24 hours to 8pm on Monday, taking the total cases linked to the northern beaches cluster to 90 after NSW Health conducted a record of almost 44,500 tests.
Ms Berejiklian sounded a cautiously positive note on Tuesday when she announced a downward trend of new infections connected to the northern beaches cluster.
"The trend is going where we want it to go, where we need to it to go … It's volatile, but we're confident that the strategy we've put in place is having the desired effect," Ms Berejiklian told reporters on Tuesday.
Get more news direct to your inbox by subscribing to our free daily news feed: Go to SUBSCRIBE at top of this article to register.
Ms Berejiklian said the low case numbers combined with the record testing gave authorities confidence they were on the right track,and would not need to further tighten restrictions for Christmas.
The northern beaches are still in lockdown, with the public health order due to expire at 11:59pm on Wednesday.
Even if the government decides against strict gathering regulations, the recent outbreak has caused havoc for the Christmas plans of many.
Thousands of people around the state are self-isolating and will continue to do so over the festive period.
New alerts were issued on Tuesday for Sydney venues visited by people infected with COVID-19, mostly on the northern beaches, but also at Paddington's Alimentari deli and Bodyfit Gym in Blacktown.
There are also several alerts for public transport routes between Sydney's CBD and Ryde.
A person who travelled from the northern beaches to Melbourne and was then diagnosed with COVID-19 also stopped at a cafe in Gundagai in southern NSW.
Another positive case visited Orange in regional NSW on Saturday. They were a close contact of a healthcare worker who was infected. The Central Square Shopping Centre is now subject to an alert, issued on Tuesday afternoon.
These add to the alerts posted on Monday night for cinemas, restaurants, hotels, clubs, cafes and gyms at Mona Vale, Newport, Narrabeen, Warriewood and Avalon, as well as several Sydney gyms and hotels.