Sunshine Coast students are among the best-performing in the state as eligible year 12s made history by receiving Queensland's first ATAR scores.
The new Australian Tertiary Admission Rank (ATAR) replaces the OP (Overall Position).
The class of 2020 was an historic cohort, the first full cohort to attend prep, the first year 7s at high school, and now the first to graduate with an ATAR during a pandemic crisis.
Almost 50,000 students graduated and 89 per cent achieved a Queensland Certificate of Education.
Of those, 26,042 received an ATAR, with 30 earning the highest score of 99.95.
A further 694 achieved 99.95 – 98.90, which was the equivalent of an OP 1 under the previous system.
Education Minister Grace Grace congratulated the Class of 2020.
"And now, despite the disruptions to their schooling caused by the global COVID-19 pandemic, the great news is 89 per cent of these young people achieved a QCE," she said.
"Of those, 31,548 also achieved a vocational education and training qualification – making Queensland the leader in VET qualifications achieved at school.
"As well 1193 completed a university subject.
Sunshine Coast Grammar student Grace Thomas was among those 30 students to achieve the highest band, scoring 99.95.
Principal at Sunshine Coast Grammar School, Mrs Maria Woods, said she was delighted with the school's results which were some of the best in the state.
About 11.11 per cent of students achieved an ATAR of 98.9 or above, 47.78 per cent scored above 91.5 (the equivalent of the OP 1-5 range) and 95 per cent achieved above a ranking of 65.5 (the equivalent of the OP 1-15 range).
"2020 has been an extraordinary year and we are incredibly proud of all our students and their efforts," Ms Woods said.
"Success comes in many forms and as a School it is our goal for every graduating Year 12 student to be working or studying towards a career that not only values their talents, but for which they also have a real passion and purpose."
Matthew Flinders Anglican College student Justin Holland (pictured) also gained the highest result – an ATAR of 99.95.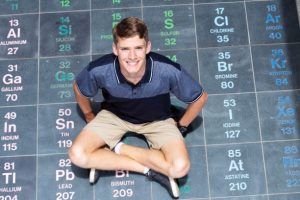 The Flinders Class of 2020 achieved a strong median ATAR of 93.15.
All graduating students were invited to a morning tea event at the College to celebrate their remarkable achievements.
Principal Stuart Meade said the College was immensely proud of its students for remaining committed to their study through a disrupted final year.
"We are thrilled to have our Flinders Class of 2020 cohort achieve a median ATAR of 93.15, especially after all they have endured in 2020," Mr Meade said.
"It is wonderful to learn that more than 91.5% of our students achieved an ATAR greater than 65.5, which is the old OP15 cut-off," he said.
"Early university offers have already been accepted by 31 of our students, and we anticipate the majority being accepted into their chosen tertiary courses.
"As a College community, we celebrate the efforts of Justin Holland, one of only 30 students in Queensland to receive the very highest ATAR of 99.95.
"It is also inspiring to have nine students achieve 100% in a variety of subjects, with Louisa Travers Jones achieving in two subjects; and a total of 24 students achieving straight A grades in all of their subjects."
Immanuel Lutheran College dux Luke Bindon returned a score of 99.9 and will pursue advanced Mathematics.
College Captain Adrienne Halpin, who achieved an ATAR of 98.05, dreams of becoming a doctor.
"The Class of 2020 will pursue a variety of interests ranging from studies in medicine, architecture, law, genetics, mathematics, nursing, education, commerce, social sciences and vocational pathways," Principal Colin Minke said.
"One of the most pleasing results is that 100% of students achieved their Queensland Certificate of Education (QCE)."
Like education stories? Get them direct to your inbox by subscribing to our free daily news feed: Go to SUBSCRIBE at top of this article to register. 
FAST FACTS:
49,651 students graduated
44,295 students (89%) achieved a Queensland Certificate of Education
26,042 students received an ATAR. The ATAR is a standard measure of an individual's overall academic achievement in relation to that of other students. It has replaced the OP as the primary way for Queensland universities to select school leavers for high demand courses.
30 students received an ATAR of 99.95
694 students received an ATAR between 99.95 and 98.90 (the equivalent of an OP 1)
5343 students received an ATAR between 99.95 and 91.50 (the equivalent of the OP 1-5 range)
19,524 students received an ATAR between 99.95 and 65.50 (the equivalent of the OP 1-15 range)
983 students will receive a Certificate of Academic Commendation for 'A' grades in at least six General subjects
31,548 students achieved a VET Certificate I, II, III or IV qualification
1193 students studied a university subject while still at school
992 students with learning impairments were awarded a Queensland Certificate of Individual Achievement.