A fire threatening a township on Fraser Island is about 400 metres away and will be bombarded by water-bombing aircraft in a morning operation.
Residents of The Oakes, about a kilometre south of Happy Valley on Fraser Island, were late Monday night told to leave via Eastern Beach as soon as possible.
"We are hoping to have another 19 aircraft, including … two large air tankers in use today as soon as we can get them in the air," Queensland Fire and Emergency Services QFES co-ordinator Brian Cox told Nine's Today show on Tuesday.
"We anticipate that around 7am this morning.
"We have already got ground crews there as we speak helping that particular township."
Mr Cox said Monday's intensive air and ground firefighting operation had borne fruit and effectively contained a fire to the north of Happy Valley.
"We saved the town," he said.
The fires, which began in October, have burned through around half of the heritage-listed Fraser Island, also known as K'gari, and are burning in three areas.
People at the Kingfisher Bay resort and village on the island have also been told to prepare to leave as a fire to the east of the area threatened to get worse.
On Monday, about 90 firefighters and 24 water-bombing aircraft were trying to beat back the flames.
The NSW Rural Fire Service large air tanker, the Marie Bashir, is helping with water-bombing efforts on the island.
Conservationist Cheryl Bryant took a charter flight over the island to survey the animal populations and fire damage on Monday.
The Save Fraser Island Dingoes spokeswoman painted a bleak picture, saying there were no signs of life in burnt-out areas.
"It's still an unknown and we're hoping that there will be an inquiry, and we're hoping that thing that will let people over on the island, and to assess what animals still are surviving," she told Seven News.
"We would have liked to have seen … animals and especially the dingoes around the beach but at this time of the day, it is pretty difficult because they're not likely to be out and about."
Minister for Fire and Emergency Services Mark Ryan said more than 90 personnel in 38 vehicles and 17 aircraft were working on Fraser Island, including the large air tanker based in Queensland for the bushfire season.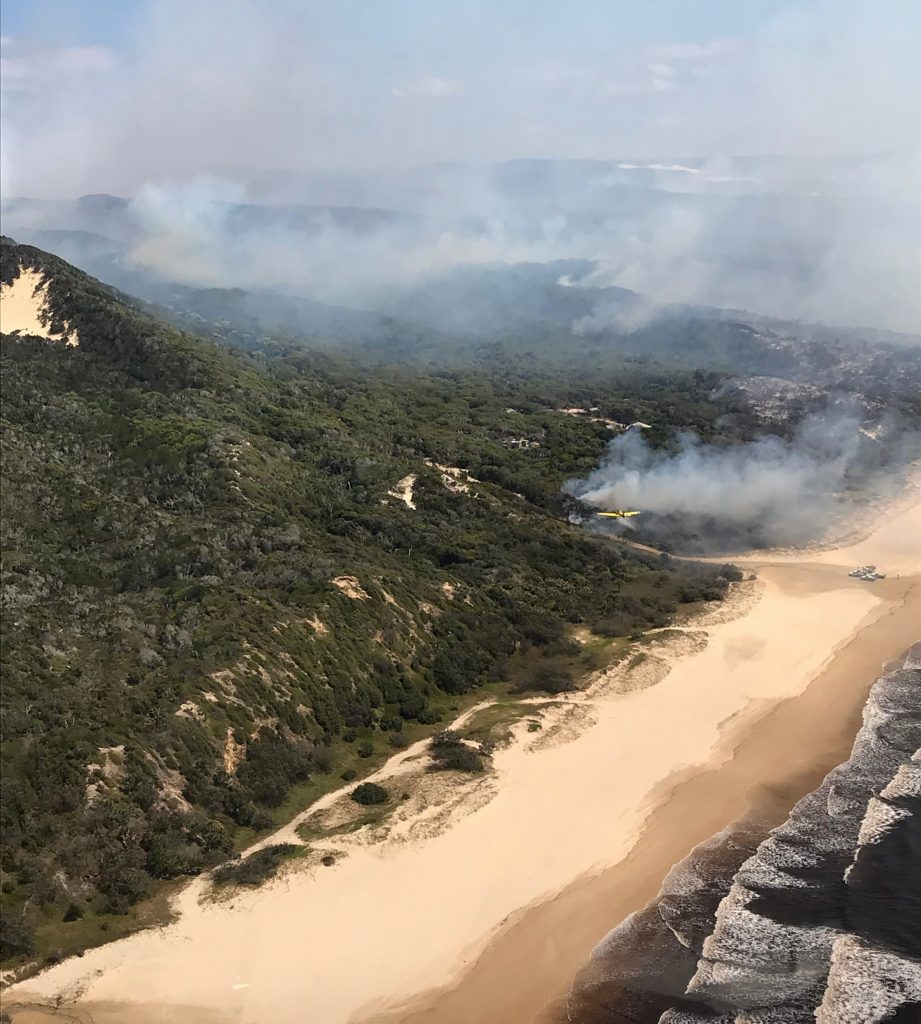 "I am also advised as well, that the New South Wales-based large aircraft tanker will be sent to Queensland tomorrow to assist in our firefighting efforts," he said.
Mr Leach said the tanker will be used to put gel lines down between the head of the fire and the outskirts of the Happy Valley settlement to try and stop it impacting the town.
He said about 50 people remained in the area, most of whom feel that they are in a position to protect themselves and participate in the firefighting effort.
"If residents are in a position to leave, they should," Mr Leach said, suggesting that coming on nightfall it's probably best to stay in place.
There are also firefighting resources at Kingfisher Bay Resort which remains a concern if winds change to the south or southeast.
"For us, as well as trying to use aircraft on the head of the fire, our main priorities are the protection of Happy Valley settlement and Kingfisher Bay Resort," Mr Leech said.
"We'll continue our firefighting efforts in the coming days and perhaps even weeks ahead of us, but we're not going to put this fire out until we get significant rain across Fraser Island."
Earlier
Water bombers are continuing to battle a seven-week-old bushfire that's blackened almost half of world heritage-listed Fraser Island.
More than a dozen firefighting aircraft, including the state's large aerial tanker, have all but stopped the fire's advance, Queensland Fire and Emergency Services says.
They've dumped almost three million litres of water and fire-retardant gel on the fire, which has destroyed 82,500 hectares of the national park since being sparked by an illegal campfire.
"Additional resourcing of ground crews and air support – allowing for a greater weight of attack – has meant that the fire's rate of spread has slowed significantly in the last 48 hours," a spokeswoman said.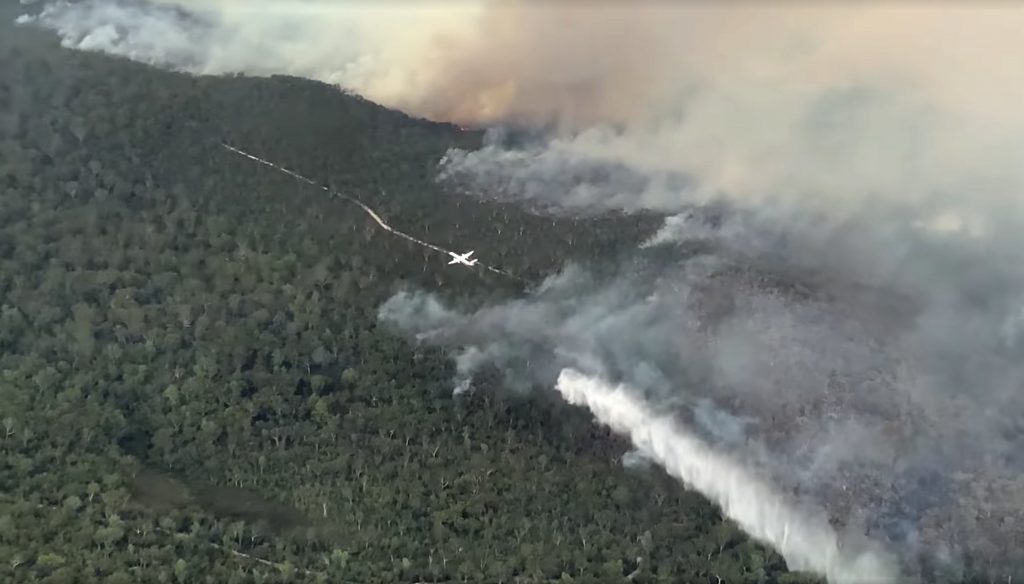 QFES said the LAT had been used 19 times since the blaze started on October 14, with four drops on Friday.
"Decisions relating to the use of the LAT are based on operational needs at the time," the spokeswoman said after the opposition slammed the limited use of the jet, which can carry 15,000 litres of liquid.
The fire continues to burn on multiple fronts on the east and west sides of the island.
One blaze is 2km east of the popular Kingfisher Bay Resort and headed south, with guests evacuated on Monday, and most staff on Wednesday.
On the eastern side of the island, the fire is burning on two fronts near the Happy Valley community and Cathedrals campsite.
About 100 specialists firefighters are on the ground.
They are being supported by fixed-wing bombers, heli-attack bombers, air attack platforms, an air observation platform, the large aerial tanker and an LAT lead plane.
A "watch and act" alert remains in place, with authorities warning conditions are likely to deteriorate over the weekend.
Fraser Island is about 250km north of Brisbane, 123km long and covers 181,851 hectares.