A shortage of residential property listings on the Sunshine Coast has led to an unprecedented land rush at Pelican Waters, where nine new lots have been snapped up in less than 24 hours for a combined $5 million-plus.
With the pandemic turbo-charging already strong appeal for the idyllic Queensland lifestyle, Pelican Waters has now sold out of all available land and is moving to get a much new product to market as possible to meet demand as its long-awaited marina and island precinct takes shape.
Pelican Waters sales specialist Morgan Bonanno said she had never seen anything like it.
"Our boutique collection of nine lots adjoining the future Central Park on the new island sold out in less than a day and prior to public release,'' Ms Bonanno said.
Don't miss auction man Gordon Macdonald's wrap-up of Sunshine Coast auctions in Monday's sunshinecoastnews.com.au.
The buyers were mainly local, with several coming from Brisbane and interstate. Most, Ms Bonanno said, were paying in cash.
"In Pelican Waters and the Sunshine Coast in general there is a real frenzy around building your own home.
"The housing market is so tight and people are sick of missing out so they are taking control and doing their own thing,'' she said.
More land opportunities are on the horizon for early next year when Pelican Waters releases its next range of waterfront and dry lots.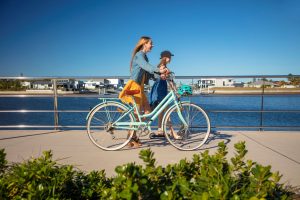 February will mark the estate's first major waterfront release in more than nine months, comprising approximately 18 sites ranging from 480sqm to 902sqm in size and water frontages up to 29 metres, with uninterrupted parkland and Bells Creek at the rear.
A dry release will follow in March, made up of a similar number of home sites from 400sqm to 650sqm in size, with waterview, park-facing and cul-de-sac product all in the mix.
Pricing for both releases are yet to be announced.
To get our free news feed emailed directly to you, go to the subscribe button at the top of this article and punch in your first name and email. It's that simple!