The USC Spartans shook the swimming scene by claiming a host of short-course world records during the weekend, but their coach says they want to be "bigger and badder" at the Olympic trials.
The University of Sunshine Coast-based club set 10 new world marks at the Australian championships in Brisbane.
Nathan Doyle, the Spartans' high performance swimming coach (Paralympic), said the records were well earned.
"It's really good to get the recognition for the hard work that's been done (at training)," he told sunshinecoastnews.com.au.
"It's been tough for all athletes because racing is the fun part of the sport and we haven't had that fun for a while now, so given the opportunity our guys really took that on and I'm really proud of the way they approached that meet and the rewards they achieved is testament to the work they've done."
But he expects it's just a sign of things to come, with Tokyo on the radar.
"It's a great atmosphere at the moment and a great environment and it's pretty hard not to get caught up in it.
"We're six months out from the (Olympic) trials and we're not going to sit around waiting."
Get more local stories direct to your inbox by subscribing to our free daily news feed: Go to SUBSCRIBE at top of this article to register
"I think these types of performances give us the confidence that we're doing the right things and that were capable of more.
"This is not all we've got, and we'll keep chasing and being hungry to be better than what we were last week and last month. In six months' time there's an opportunity for us to be bigger and badder than we've ever been before.
"We're really going to be taking the opportunity with two hands and not letting go."
The Australian short course championships were held concurrently at five interstate venues, with competitors' times compared.
USC record breakers were Katja Dedekind (women's S13 400m free, S13 50m back, S13 200m IM, S13 100m back), Braedan Jason (men's S12 400m free), Jacob Templeton (men's S13 400m free, S13 100m free, S13 200m free), Kaylee McKeown (women's 200m back, pictured below AAP Image), Blake Cochrane (men's SB7 50m breast).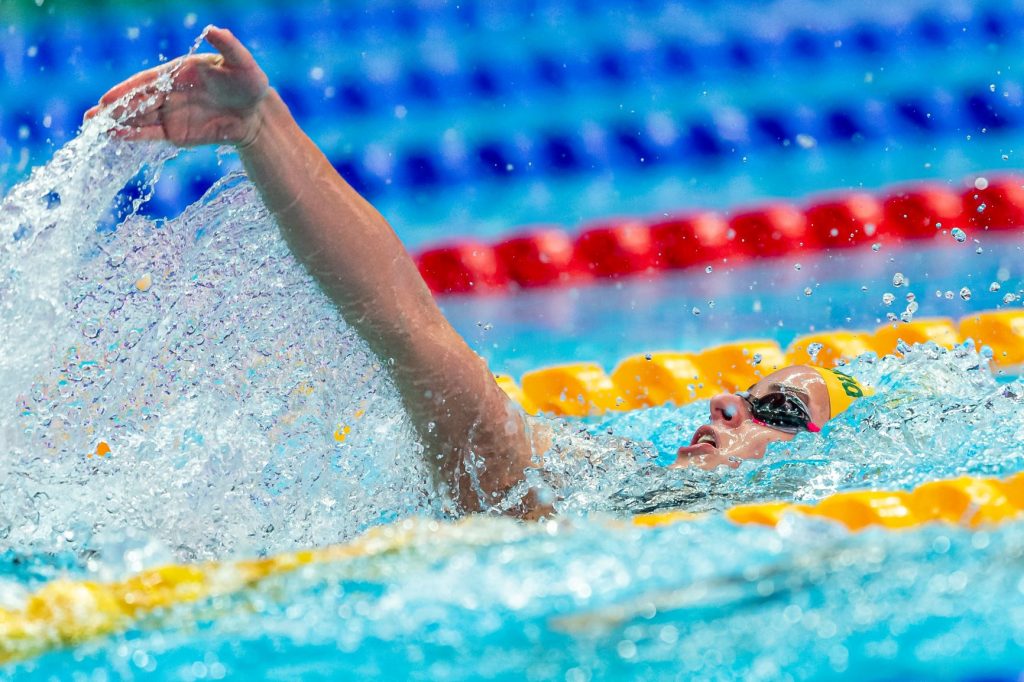 Ben Hance was also under world record time in the men's S14 100m fly and S13 100m, back but he's halfway through the classification process which has stalled due to COVID-19.
McKeown got the party started earlier this month, when she captured the national 100m backstroke record at the Medal Shots meet in Brisbane.
"The whole team looked at it and went 'well she's swimming fast, so can we," Doyle said.
"Everyone has really knuckled down and done everything they can to be a in great position. It sometimes only takes one person to give else the confidence."
He held special praise for teenager Dedekind, who snared four world records.
"She surprised me in swimming world records in events she hasn't swum before."
"She's really got used to being a professional athlete and she's taken it to the next level.
"It's just the beginning of what we're going to see from her."
Fellow Sunshine Coaster Lani Pallister claimed Australian records in the women's 800m (8:10.12) and 1500m (15:28.33), with her effort in the latter being the third fastest all time.
Like this story? Get more just like it direct to your inbox by subscribing to our free daily news feed: Go to SUBSCRIBE at top of this article to register