A trio of celebrated Maleny businesses are finishing a harrowing year on a high note, thrilled that they are thriving to the point that all three are now expanding.
Maple Street Co-op, a member-owned organic retail outlet of 41 years, is taking over the premises next door, formerly the home of award-winning ice-creamery Colin James Fine Foods. That business, now known as Maleny Food Co, is moving into the former Maleny newsagency a couple of doors down. And just across the road, the popular Shotgun cafe, which began as a tiny espresso bar six years ago, has expanded into the premises next door.
Kelly Robson and Adrian Anderson, Maleny locals of 24 years, relax at an outdoor table in front of their vibrant green shopfront after their first day of trading in the new space, which is soon to become a licensed night venue. Locals congratulate them as they walk by and drivers slow down, beep their horns and wave. The excitement and goodwill is palpable.
Ms Robson and Mr Anderson are both ex-employees and members of the UpFront Club, an iconic co-operative live music venue and restaurant that many saw as the heart and soul of Maleny's social and cultural life for more than two decades. Sadly, it went bust in 2016.
"I feel like it's our job to put the heartbeat back into Maleny," Mr Anderson says. "We'll be a licensed restaurant first and foremost, and we also have the capacity to run little gigs occasionally".
"More than replacing the UpFront Club, we want to create a great venue in the middle of town and let it be its own thing," Ms Robson says. "We love our town; we have lived here a really long time. I'm giddy with pride for the team and the community of Maleny. It's so beautiful to put all your chips on the table and have people reassuring you, we're going to back this."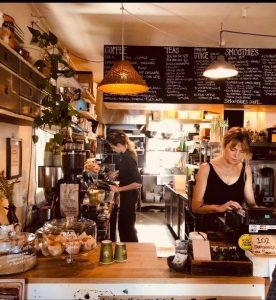 The couple is amazed that in a matter of months, they've gone from not knowing if their business would survive COVID, to doubling in size.
"It was so shocking," says Ms Robson. "The unpredictability of it, there was no precedence for it. We didn't shut and we were there with it for the whole time."
"That first couple of weeks was pretty scary," says Mr Anderson. "I was sounding out the possibility of whether we would close, as there was no apparent help coming from the government. I didn't know how we were going to make it, but Kel was more upbeat."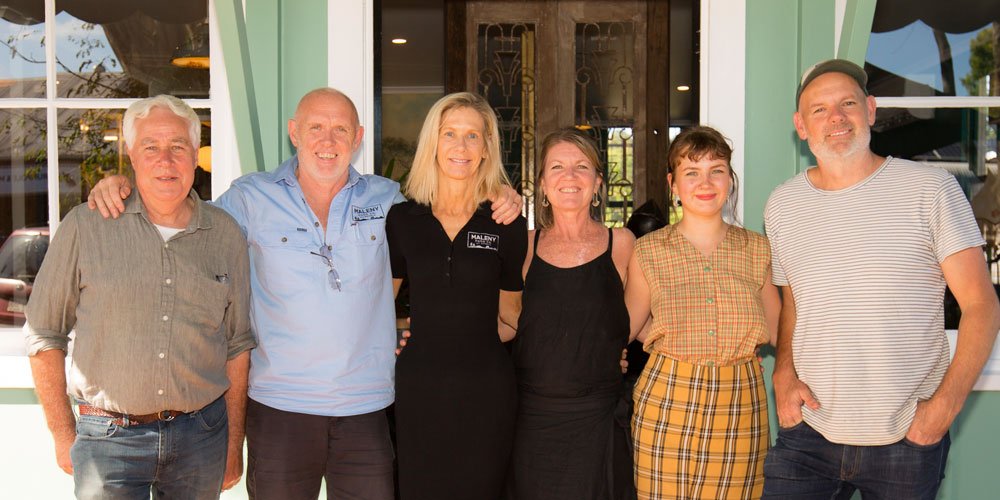 Directly across the road from Shotgun, Maple Street Co-op continued to trade well throughout COVID and now the time is right to expand next door. Owned by 1000 members, the Co-op has outgrown its cosy home and is bursting at the seams.
"The Co-op is thriving, despite COVID-19 and the downturn, with the community turning to healthier options and local businesses where the money stays within the community," says store manager Charlotte Fogarty-Henderson.
"Non-members and visitors are always welcome at the shop and make up a large proportion of our customers," she says. "All surplus income is ploughed back into the shop rather than shareholders."
Customers made it clear they wanted better accessibility and browsing space, more light and more bulk food.
In implementing the expansion, the Co-op made great efforts to source local materials and craftspeople, with the Blackall Range Woodcrafters Guild helping design fitments. They also offered a bunya tree that had been saved from the mulcher to make slabs for the front window displays and many other locals stepped up to help create signage and display fittings.
"We'll have more space so people can bring prams in and it will be wheelchair accessible," says Ms Fogarty-Henderson.
Making the Co-op's expansion possible is the relocation of Maleny Food Co out of the building that housed Colin James Fine Foods for decades, and into a larger space a couple of doors down. Mr Scott and his wife Kate purchased the business from Colin James in 2015 and have maintained its reputation for top-quality gelati, cheese and bespoke local products.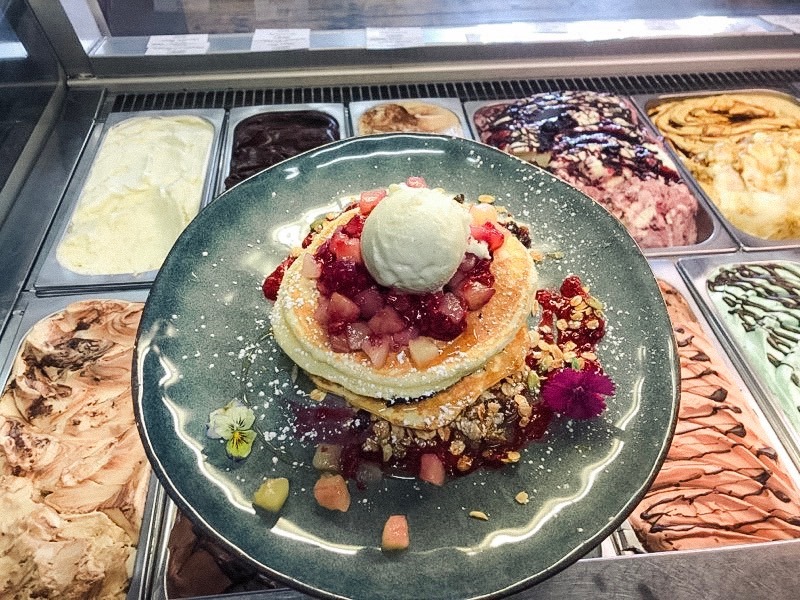 "We always had the grand plan to create a home of Maleny Food Co that was in a new environment, Mr Scott says. "We had to close the cafe for a period during COVID and started doing takeaways. It was pretty dire, even our wholesale gelati business was down 80 per cent because all the shops we supplied were closing.
"But I think we always had the confidence that if we were careful, we would get through. We never at any point felt the whole thing would collapse.
"We always had the vision to do three things: gelato, cheese and profiling local produce. The benefit we have in the new building is the fromagerie is twice as big. The gelato offering won't just be a scoop in a cone, we'll be doing sundaes and desserts and we'll have more local products on sale.
"Our goal is to profile not only our own product, but other local producers and over time, we'll have more signature dishes using local produce. Maleny Food Co, the Co-op and Shotgun, we've all taken this opportunity and I think it can only be good for the local community and visitors.
"I've always said ever since we bought Colin James Fine Foods, if Maleny is better, we're all better. If Maleny grows, we all grow. And now it's all coming together."