The weather bureau has warned of a "very serious and dangerous situation" as thunderstorms smash South-East Queensland (SEQ), dumping intense rain on catchments already at capacity.
Maroochydore recorded 52mm in just 30 minutes on Thursday morning, which the BOM said was indicative of what the region could expect over the next 24 to 48 hours, with more flooding anticipated.
Powerlines and trees have been knocked over in places like Landsborough and Beerwah as residents woke Thursday morning to rumbling thunderstorms, hail the size of golf balls and another deluge.
Energex had reports of at least 80 fallen powerlines on the ground, caught in trees and cutting access.
"Authorities are greatly concerned about the danger this poses, telling people to stay in their homes and not to drive through the area," warned Sunshine Coast Council.
Roads impacted by flash flooding include Steve Irwin Way, Old Landsborough Rd, Old Gympie Rd, Pinelands Rd and Whites Rd.
With several roads closed and powerlines down, council and emergency services are encouraging residents to stay at home.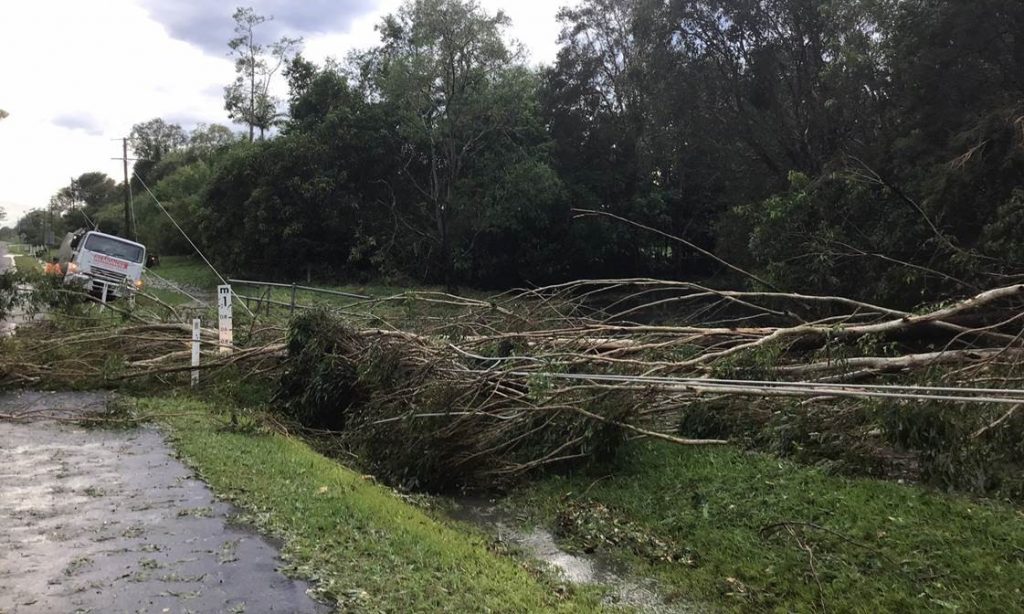 Trees have brought down powerlines in Landsborough.Flood warnings have again been issued for the Maroochy River, Mooloolah River and Coochin Creek.
The Conondale community should remain on high alert, as flash flooding in the upper Mary River is possible.
A Hazardous Surf Warning has been issued for Sunshine Coast waters from early Friday morning through to Saturday.
Surf Life Saving Queensland advise that people should stay out of the water.
Giant hail and damaging winds
The BOM warned of the likelihood of "giant hail" and severe winds ross the south-east, with gusts of 93km/h recorded at Dalby.
Inglewood reported balls of hail up to 6cm smashing down.
The BOM has described the thunderstorms impacting the Sunshine Coast Thursday and
Friday as "potentially life-threatening".
"Any rainfall is going to renew river rises and levels will respond quickly because they don't have the capacity to take any water," said atmospheric scientist Brooke Pagel.
Premier Annastacia Palaszczuk said South-East Queensland was experiencing "unprecedented times" and she had never seen such an onslaught of storms and floods over her life living in Brisbane.
Ms Palaszczuk urged parents to collect their children from school when it was safe to do so.
The Premier asked people to stop cleaning up their flooded homes from the week's earlier weather event and to remain somewhere safe until the dangerous impacts had passed.
"The safest place for people to be over the next 24 to 48 hours is in their homes with family and loved ones, not on the roads," she said.
Transport Minister Mark Bailey said the ferocious storms had knocked down trees across the Sunshine Coast's main train line between Caboolture and Nambour and a number of roads, with about 37,000 properties without power.
The BOM said the trough sitting over the southeast was expected to dump up to 150mm on already soaked river catchments over the next three days.
"Areas of minor to major flooding may redevelop, however, peak levels are expected to be below those observed over recent days," the forecaster said.
"There is a risk for localised flash flooding with heavy rainfall as catchments remain saturated."
Sunshine Coast Local Disaster Management Group Chair Mayor Mark Jamieson said with the ground already soaked and waterways still swollen after last week's deluge, the continued heavy rainfall was dangerous and had the potential to cause flash flooding.
"There is a lot of water on the roads so if you don't need to be driving, please don't," Mayor Jamieson said.
"An emergency alert has been issued and I ask people to follow its messaging, primarily about staying off the roads.
"The Bureau of Meteorology has advised more severe weather may be on the way so we need to be prepared and know where we can get help."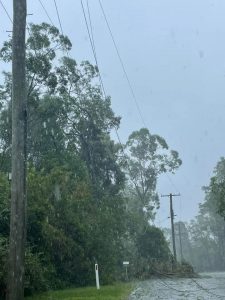 Police are still searching for an elderly man who fell from a boat into the swollen Brisbane River near Breakfast Creek on Saturday afternoon.
Brisbane Council had been gearing up to mobilise more than 10,000 in the Mud Army 2.0 to clean up the city after it was swamped with floodwaters this week.
However, Brisbane Lord Mayor Adrian Schrinner said the new storms have put clean up and recovery efforts on hold.
Mr Schrinner said unlike 2011 floods, which mainly impacted areas near the Brisbane River, combined river and flash flooding in creeks has caused damage in every one of Brisbane's 190 suburbs.
"So every suburb has creeks running through it, every suburb had localised flooding, and there's impacts in every suburb and you just see that right across," he said.
Queenslander are encouraged to download the Bureau of Meteorology app onto your phone or mobile device.
You can view the radar and receiving flood and severe thunderstorm warnings, flood watch and hazardous surf warnings.
Where to go to for help and information:
• For life threatening emergencies, call Triple Zero (000).
• For help in storms and floods, including sandbag requests, call the SES on 13 25 00.
• For information on interruptions to council services, visit council's website.
• For road closures and other weather-related updates, visit Disaster Hub.
• For regular weather updates, you can also tune into your local radio station.
• To report a council related urgent matter or emergency, call (07) 5475 7272 or 1300 007 272.
• For weather updates, visit the Australian Government's Bureau of Meteorology website.
• Download the Bureau of Meteorology app on your phone and mobile device.
-with AAP